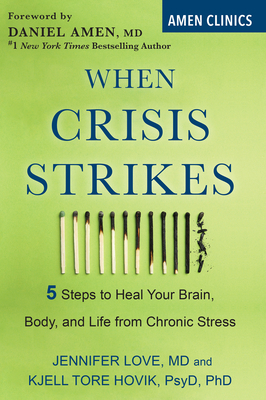 When Crisis Strikes
5 Steps to Heal Your Brain, Body, and Life from Chronic Stress
Paperback

* Individual store prices may vary.
Description
YOUR BRAIN'S GREATEST ENEMY? CHRONIC STRESS. LEARN HOW TO REGAIN CONTROL, LIFE BALANCE, AND WELL-BEING.

The second in a line of health care books published in partnership with Dr. Daniel Amen and the Amen Clinics, When Crisis Strikes offers a proprietary 5-step program for tackling life crises and coping with chronic stress.

Stress is an unfortunate fact of modern life, and when those stressors are catastrophic--divorce, illness, caregiving, loss--a brain under stress becomes a brain in crisis. In this invaluable guide, award-winning psychiatrist Dr. Jennifer Love and neuropsychologist Dr. Kjell Hovik explore how to heal the damage that prolonged stress can do to your brain and your health. In When Crisis Strikes you'll learn how to prevent these side effects from hijacking your daily life.

• Discover how your brain works with your body's natural stress response system.
• Learn how mental and emotional cues cause physical reactions like muscle tension, pain, lowered sex drive, and more.
• Practice the five steps to relieve a stressor's toll on your mind and your body.
• Utilize the tools to deal with any life crisis.

Including a foreword from renowned psychiatrist and brain health expert Dr. Daniel Amen, When Crisis Strikes provides hope and healing for everyone who has experienced the often-crushing weight of chronic stress.
Praise For When Crisis Strikes: 5 Steps to Heal Your Brain, Body, and Life from Chronic Stress…
Praise for When Crisis Strikes
 
"Chronic stress ranks amongst the most serious threats to human health and longevity. And surprisingly, its pivotal role as it relates to degrading our most coveted health assets is generally under recognized. But whether brought on by sexual abuse, dealing with an alcoholic parent, having a child with special needs or by the seemingly ever present threat of serious viral illness, chronic stress can be recognized, contextualized and ultimately ameliorated. And this is the mission of  When Crisis Strikes. Drs.Love and Hovik eloquently lay bare how chronic stress insinuates itself into every aspect of our lives and provide the tools to relinquish ourselves from its influence. Especially now, this book is essential."
—David Perlmutter, MD, #1 New York Times bestselling author of Grain Brain and Brain Wash
 
"When Crisis Strikes is an indispensable book that will guide you through the inevitable crises we will each face in life. While the circumstances of your brain in crisis will be unique to you and your situation, Drs. Love and Hovik will show you the science of your stress response, the impact on your mind and body, and practical steps to feel better and come through it stronger."
—Mark Hyman, MD, #1 New York Times bestselling author

"Artfully weaving the biology and psychology of human crisis (aka stress), Drs. Love and Hovik educate us about what is happening in our mind and body and empower us to master it.   We all have faced some alarming crisis or another--it is part of life.  How we identify it, command it and recover from it is critical to our mental and physical health.  This book offers invaluable guidance.  Really, any book that teaches us to give our crisis the finger is worth a read."
—Reuben Sutter, MD, Founder and Medical Director, Sage Neuroscience Center
 
"Charming, poignant, and profound. In the midst of an unprecedented global crisis that the COVID pandemic is, readers will find the book full of deep insights and practical advice."
—Elkhonon Goldberg, PhD, Director Luria Neuroscience Institute and Clinical Professor of Neurology, NYU Grossman School of Medicine
 
"Dr.s Love and Hovik have written a scientifically sound book that is also informed by clinical experience. This book is well-written, as well as humorous, and shares many relevant examples of how to use their 5-step model to recover from various kinds of life crises."
—Per Normann Andersen, Ph.D., Professor, Inland Norway University of Applied Sciences
 
"Approachably irreverent, yet always sincere, Drs. Love and Hovik have packed their book with practical, science-based advice for dealing with stress.  Following the steps laid out in When Crisis Strikes will improve both your life and your experience of it."
—Jonathan Betlinski, MD, Clinical Associate Professor, Director, Division of Public Psychiatry, OHSU
Citadel, 9780806540818, 288pp.
Publication Date: December 29, 2020
About the Author
Dr. Jennifer Love, MD is board-certified in psychiatry, addiction psychiatry and addiction medicine, and is a Diplomate of the American Board of Psychiatry and Neurology and the American Board of Addiction Medicine. She attended medical school at Loma Linda University School of Medicine, and completed her internship, residency and subspecialty fellowship training at the University of Hawaii. She served as chief resident and as clinical faculty at the University of Hawaii Department of Psychiatry before returning to California where she is currently in group practice. Dr. Love is an award-winning researcher and international speaker, has appeared as a medical expert on The Dr. Phil Show and The Doctors, and has been interviewed for documentaries (including the Broken Brain series by Dr. Mark Hyman), podcasts and vlogs.

Kjell Tore Hovik, PsyD, Ph.d. is a clinical neuropsychologist who has authored and co-authored more than 16 peer-reviewed academic articles and book chapters. He has trained professional athletes to use mental techniques to boost their peak performance potential. Dr. Hovik is Editor-in-Chief of Nevropsykologi, which is the peer-reviewed journal of the Norwegian Neuropsychological Society.