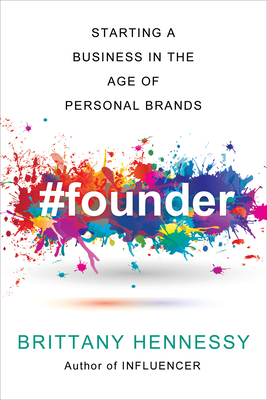 Founder
Starting an Online Business in the Age of Personal Brands
Paperback

* Individual store prices may vary.
Description
From the bestselling author of INFLUENCER, an indispensable crash course in developing, launching, and growing an online business. FOUNDER is for anyone who wants to redefine work, take control of their lives and create room for the things that matter to them--family, friends, fun, community, giving back--while still earning enough to build a financially abundant and secure life. From a leader in the field and bestselling author of Influencer, comes an indispensable guide to starting your own online business and achieving financial and personal freedom--because in the 21st century, business is personal.

Do you enjoy the internet and the products and services it offers?
Do you have an expertise or passion that you want to make into a career or additional revenue stream?
Do you want to be the boss of you? The job market and the workplace are forever changed. Countless people need and want to redefine work. Whether due to unemployment or financial instability, or a desire for more independence and flexibility, starting your own business is an increasingly practical option--and it's never been easier to make money outside the traditional workplace. You don't even need to be an influencer or content creator. You do need an interest or talent that you want to formally monetize online with a personal brand. From selling secondhand items on Ebay or original pieces on Etsy, to offering virtual courses and coaching--or, of course, embracing the influencer lifestyle--there are many ways to build revenue through a digital presence. In this invaluable book, expert Brittany Hennessy guides you every step of the way and answers key questions, including: *How do I begin to make my side hustle a full-blown career?
*How do I find investors?
*What is an LLC, and how do I register for one?
*What about creating a website?
*What's the deal with trademarks? ...and much more, whether you're a young person just starting out or an older adult looking to scale down your hours but not your lifestyle, a corporate employee or working parent seeking a new path, Founder will help you create room for what matters to you most--all while still earning enough to build a financially secure life.
Citadel Press, 9780806541341, 272pp.
Publication Date: July 27, 2021
About the Author
Brittany Hennessy is the bestselling author of INFLUENCER: Building Your Brand in the Age of Social Media, the co-founder of the influencer development platform CARBON AUGUST, and was the first-ever Senior Director of Influencer Strategy & Talent Partnerships for Hearst Magazines Digital Media. Named to Talking Influence's Top Industry Player List and a judge for the 2019 Influencer Marketing Awards, she is a member of the Real-Time Academy of Short Form Arts and Sciences and judges the annual Shorty Awards and the Shorty Social Good Awards. An active speaker and consultant, her work has been featured in The Wall Street Journal, USA Today, Forbes, NBC's TODAY Show, Entrepreneur, BUILD Series, Girlboss, Cosmopolitan, and many other outlets. Visit her online at BrittanyHennessy.com.
or
Not Currently Available for Direct Purchase