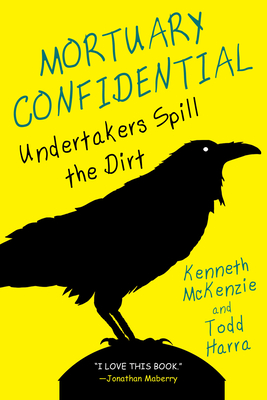 Mortuary Confidential
Undertakers Spill the Dirt
Paperback

* Individual store prices may vary.
Other Editions of This Title:
Digital Audiobook (11/29/2021)
Paperback (2/27/2018)
Description
Mortuary Confidential does for the undertaker profession what Stiff did for cadavers--it manages to be as informative and heartwarming as it is irreverent and hilarious. This collection of real stories from morticians and funeral directors across America feeds mainstream readers' dark curiosity and sense of humor about "our world of death" with a behind-the-scenes glimpse into every conceivable facet from the people who touch it every day.

From shoot-outs at funerals to dead men screaming and runaway corpses, undertakers have plenty of unusual stories to tell--and a special way of telling them.

In this macabre and moving compilation, funeral directors across the country share their most embarrassing, jaw-dropping, irreverent, and deeply poignant stories about life at death's door. Discover what scares them and what moves them to tears. Learn about rookie mistakes and why death sometimes calls for duct tape.

Enjoy tales of the dearly departed spending eternity naked from the waist down and getting bottled and corked--in a wine bottle. And then meet their families--the weepers, the punchers, the stolidly dignified, and the ones who deliver their dead mother in a pickup truck.

If there's one thing undertakers know, it's that death drives people crazy. These are the best "bodies of work" from America's darkest profession.
Citadel, 9780806541396, 256pp.
Publication Date: December 28, 2021
About the Author
Todd Harra is the author of several books about the funeral profession. He is a fourth-generation funeral director and works for the family business in Wilmington, Delaware. In addition to being a funeral director and embalmer, Harra is a certified postmortem reconstructionist and cremationist. For more information, visit toddharra.com or connect on Facebook @toddharraauthor.

Kenneth McKenzie first became interested in the death care industry at the age of twelve, following his father's suicide. He has been a funeral director for 22 years and a funeral home owner for 14. In 2007 Ken created and published the well received Men of Mortuaries calendar, also the inspiration for this book, to benefit Breast Cancer Awareness and received California's Outstanding Funeral Director of the Year award. He resides in Long Beach. Please visit www.menofmortuaries.com.