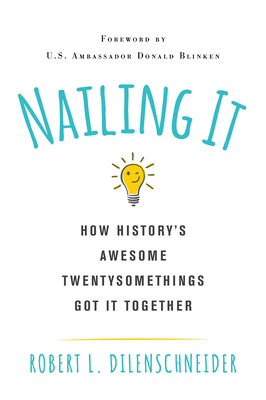 Nailing It
How Historys Awesome Twentysomethings Got It Together
Paperback

* Individual store prices may vary.
Description
This inspiring and encouraging book from respected consultant Robert L. Dilenschneider provides 25 fascinating and diverse profiles of iconic men and women that show where they were at or near age 25—and how they built their legacies across a range of careers, including the arts, business, science, and government.


With a foreword from U.S. Ambassador Donald Blinken.


Do you think Albert Einstein had his act together by his mid-20s? Think again. Would you assume style icon and humanitarian Audrey Hepburn's life was always as beautiful as she was? Far from it. At the other end of the spectrum is the revolutionary Steve Jobs, who was at the top of his game by age 25. But Jobs's beginnings were marked by his adoption, displacement, bullying, and then a rocky personal life. This absorbing book examines the trajectories of 25 iconic figures—from Toni Morrison to Albert Einstein and Golda Meir to Wolfgang Amadeus Mozart—to reveal where they were in their lives in their mid-twenties and the choices that enabled them to make their historic marks.

For those who are coming of age now, and for those who care about them and their futures, these captivating profiles provide inspiration, instruction, and encouragement.


The profiles in Path to Greatness will be real-life examples of the fact that the turning points that lead to success and happiness come at different times and as a result of different conditions. Some people create their own turning points, other people build on what happens to them.

Many people who seemed to "have their act together" at age 25, had already weathered difficult beginnings to their lives; their turning points came early. And other people who didn't even have an act at age 25, went on to make profound contributions to the world; their turning points came with maturity.

This book will remind readers that it is never too late to make an impact.

Citadel, 9780806541754, 288pp.
Publication Date: December 28, 2021
About the Author
Robert L. Dilenschneider is founder of The Dilenschneider Group. Headquartered in New York and Chicago, the Firm provides strategic advice and counsel to Fortune 500 companies and leading families and individuals around the world, with experience in fields ranging from mergers and acquisitions and crisis communications to marketing, government affairs and international media. Mr. Dilenschneider has been called the "Dean of American Public Relations Executives" and is widely published, having authored 14 books, including A Briefing for Leaders, On Power, The Critical 14 Years of Your Professional Life, Moses: C.E.O, The Critical 2nd Phase of your Professional Life, 50 Plus!—Critical Career Decisions for the Rest of Your Life, A Time for Heroes, Power and Influence: The Rules Have Changed, and most recently The AMA Handbook of Public Relations.
Read more at Robertldilenschneider.com.