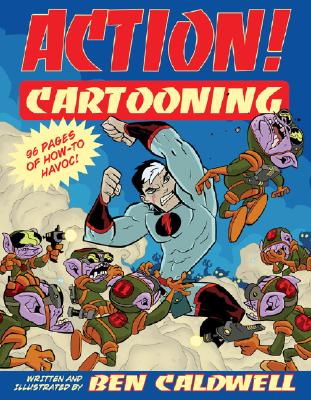 Action! Cartooning
Paperback

* Individual store prices may vary.
Description
The best book on a hot new subject This jam-packed how-to by a former Marvel Comics cartoonist offers everything a budding artist needs. Written and illustrated by a former Marvel Comics' artist with brilliant hand-done images throughout, this graphic handbook of cartooning is without equal. Its simply larger, better illustrated, and more in depth than any similar title on the market. In elaborate detail, it focuses on superheroes and their atmospheric world filled with speed and movement. Every aspect of creating cartoons is taught: the supplies, developing mood, and the techniques that endow characters with personality. See how to draw a variety of faces (female, heroic, cute, gaunt), and give the appearance of age. From the skeleton to the torso, to the arms, hands, and legs, follow every stroke that goes into producing bodies of all shapes and sizes. Finally, theres instruction on sending those figures into running, jumping, punching, kicking action in a fully realized scene. With advice so thorough, any amateur can become a pro.
Sterling, 9780806987392, 96pp.
Publication Date: March 1, 2004
About the Author
Ben Caldwell has created action figures based on characters from The Lord of the Rings, Spiderman, and the X-Men movies. He is currently redesigning the look of the popular Wonder Woman character for DC Comics.
or
Not Currently Available for Direct Purchase