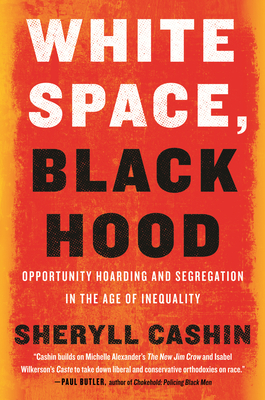 White Space, Black Hood
Opportunity Hoarding and Segregation in the Age of Inequality
Hardcover

* Individual store prices may vary.
Other Editions of This Title:
Digital Audiobook (9/13/2021)
Paperback (10/4/2022)
Description
A 2021 C. Wright Mills Award Finalist

Shows how government created "ghettos" and affluent white space and entrenched a system of American residential caste that is the linchpin of US inequality—and issues a call for abolition.

The iconic Black hood, like slavery and Jim Crow, is a peculiar American institution animated by the ideology of white supremacy. Politicians and people of all colors propagated "ghetto" myths to justify racist policies that concentrated poverty in the hood and created high-opportunity white spaces. In White Space, Black Hood, Sheryll Cashin traces the history of anti-Black residential caste—boundary maintenance, opportunity hoarding, and stereotype-driven surveillance—and unpacks its current legacy so we can begin the work to dismantle the structures and policies that undermine Black lives.

Drawing on nearly 2 decades of research in cities including Baltimore, St. Louis, Chicago, New York, and Cleveland, Cashin traces the processes of residential caste as it relates to housing, policing, schools, and transportation. She contends that geography is now central to American caste. Poverty-free havens and poverty-dense hoods would not exist if the state had not designed, constructed, and maintained this physical racial order.

Cashin calls for abolition of these state-sanctioned processes. The ultimate goal is to change the lens through which society sees residents of poor Black neighborhoods from presumed thug to presumed citizen, and to transform the relationship of the state with these neighborhoods from punitive to caring. She calls for investment in a new infrastructure of opportunity in poor Black neighborhoods, including richly resourced schools and neighborhood centers, public transit, Peacemaker Fellowships, universal basic incomes, housing choice vouchers for residents, and mandatory inclusive housing elsewhere.


Deeply researched and sharply written, White Space, Black Hood is a call to action for repairing what white supremacy still breaks.

Includes historical photos, maps, and charts that illuminate the history of residential segregation as an institution and a tactic of racial oppression.
Praise For White Space, Black Hood: Opportunity Hoarding and Segregation in the Age of Inequality…
"While extensively documented and amply footnoted, Cashin's survey remains compelling and accessible to a general readership. A resonant, important argument that White supremacy and racial division poison life in our cities."
—Kirkus Reviews

"Cashin's levelheaded reform suggestions draw from real-world success stories, such as an outreach program in Richmond, Calif., where gun violence plummeted after "violence-prone" young men were given access to therapy, job training, and a monthly stipend. This is a well-researched and persuasive guide to a major source of inequity in the U.S. "
—Publishers Weekly

"Cashin's study of the racial foundations of residential castes is an accessible and compelling read that balances historical documents with personal narratives."
—Library Journal

"This well-researched and accessibly written volume examines the government-created system of residential caste in the US. Cashin also provides ideas for the abolition of these practices to create a more equitable future for all."
—Ms. Magazine, "September 2021 Reads for the Rest of Us, 9/1"

"In White Space, Black Hood: Opportunity Hoarding and Segregation in the Age of Inequality, Sheryll Cashin demonstrates how durable and pervasive anti-Black rhetoric has been in American thought from the days of Thomas Jefferson to the era of Donald Trump . . . . Cashin explains how racial presumptions once used to justify enslavement eventually led to mandatory segregation in housing."
—Washington Post

"In the brilliant and important new book, White Space, Black Hood: Opportunity Hoarding and Segregation in the Age of Inequality, Georgetown law professor, Sheryll Cashin, identifies and condemns three methods of white supremacy at work throughout the United States: boundary maintenance, opportunity hoarding in the form of commercial exclusion and educational apartheid, and stereotype-driven surveillance."
—Counterpunch

"Like slavery and Jim Crow, the Black hood has in many ways been shaped by white supremacy. Politicians from both sides of the aisle, people of all races and nationalities propagated and appropriated this idea of "the ghetto" and the myths around it as a way to "justify racist policies that concentrated poverty in the hood and created high-opportunity white spaces." Based on nearly 20 years of fieldwork and research in cities such as Baltimore, New York, St. Louis and Chicago, Cashin looks at the housing disparities and redlining as it relates to schools, policing and access to transportation. White Space, Black Hood calls for the abolition of state-sanctioned systemic oppression and calls for a new infrastructure of opportunities in poor Black neighborhoods."
—The Root

"White Space, Black Hood makes a powerful case that 'geography as caste is destroying America.' It will be impossible to heal the soul of the country without addressing the defining problem this extraordinary book illuminates."
—Richard D. Kahlenberg, New Republic

"[A] valuable primer on some of the main engines of racial inequality in the modern United States." 
—Heath W. Carter, Christian Century

"Sheryll Cashin is one of the most important civil rights scholars of our time, and White Space, Black Hood is her magnum opus, the searing culmination of decades of research about the devastating consequences of segregation. Cashin builds on Michelle Alexander's The New Jim Crow and Isabel Wilkerson's Caste to take down liberal and conservative orthodoxies on race. (White) America is not ready for this book."
—Paul Butler, author of Chokehold: Policing Black Men

"In this brilliant and nuanced new volume, Sheryll Cashin exposes the ways in which American policy decisions, from the early twentieth century to the present, have constructed a 'residential caste system' resulting in the entrapment of Black people in high-poverty neighborhoods while 'overinvesting in affluent white space.' Riveting and beautifully written, White Space, Black Hood convinces the reader of the centrality of geography in economic and social inequality."
—Henry Louis Gates, Jr.

"We need Sheryll Cashin's scholarship to make sense of the racial inequalities that mar every urban community, and we need her vision to guide us to a more equal society. Illuminating, compassionate, and engrossing . . . an instant classic."
—Heather McGhee, author of The Sum of Us: What Racism Costs Everyone and How We Can Prosper Together

"With analytical precision, Sheryll Cashin masterfully tells the story of how Black neighborhoods have been gutted by the system of housing anti-Blackness. . . . White Space, Black Hood is clear, compelling, and demands our attention."
—Bettina L. Love, author of We Want to Do More Than Survive

"In pulling back the curtain on how residential segregation creates caste for some and economic profit for others, Cashin offers a clear-eyed view of the precarity of our present and provides a path toward a more equitable future."
—Noliwe Rooks, author of Cutting School: The Segrenomics of American Education
Beacon Press, 9780807000298, 312pp.
Publication Date: September 14, 2021
About the Author
Sheryll Cashin is an acclaimed author who writes about the US struggle with racism and inequality. Her books have been nominated for the NAACP Image Award for Nonfiction, the Hurston/Wright Legacy Award for Nonfiction, and an Editors' Choice in the New York Times Book Review. Cashin is the Carmack Waterhouse Professor of Law, Civil Rights and Social Justice at Georgetown University and an active member of the Poverty and Race Research Action Council. A law clerk to US Supreme Court justice Thurgood Marshall, Cashin also worked in the Clinton White House as an advisor on community development in inner-city neighborhoods. She is a contributing editor for Politico Magazine and currently resides in Washington, DC, with her husband and twin sons. Follow her at sheryllcashin.com and on Twitter (@sheryllcashin).