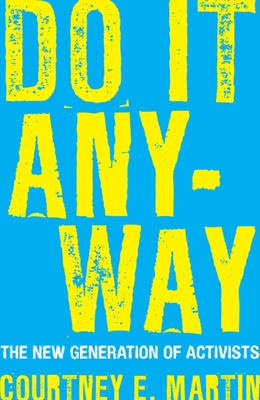 Do It Anyway (Paperback)
The New Generation of Activists
Beacon Press, 9780807000472, 224pp.
Publication Date: September 7, 2010
* Individual store prices may vary.
Description
If you care about social change but hate feel-good platitudes, Do It Anyway is the book for you. Courtney Martin's rich profiles of the new generation of activists dig deep, to ask the questions that really matter: How do you create a meaningful life? Can one person even begin to make a difference in our hugely complex, globalized world?
About the Author
Courtney E. Martin is a senior correspondent for the American Prospect and an editor of Feministing.com. A 2002 recipient of the Elie Wiesel Prize in Ethics, she is the author of Perfect Girls, Starving Daughters and coauthor of The Naked Truth. Her writing has appeared in Mother Jones, Newsday, the Christian Science Monitor, and on Huffington Post and Alternet, among other publications. She lives in Brooklyn.
Praise For Do It Anyway: The New Generation of Activists…
"Courtney Martin's portraits of eight young activists reveal people who are flawed, scared, and human—which makes them all the more inspiring. An elegant, effortless read that confirms what we already know: young people continue to change the world."
—Jennifer Baumgardner and Amy Richards, authors of Manifesta and Grassroots

"Do It Anyway asks the most difficult question possible: how can I make my life meaningful? The answers are varied, transformational, and necessary for us all."
—Jane Fonda

"Courtney Martin is one of our most insightful culture critics and one of our finest young writers. She's written a lively, compelling, and very important book for people of every generation who want to be fully alive in and to the world. Take in what she says and you may find yourself turning to that impossible cause you care about and 'doing it anyway.'" 
—Parker J. Palmer, author of Let Your Life Speak

"Unlike a lot of authors, Courtney Martin isn't trying to sell you activism and why you should (yawn) get involved. Instead, she goes deep into the stories and lived experience of eight individuals. Do It Anyway is a treasure and deeply affecting." 
—Billy Wimsatt, author of Bomb the Suburbs and Please Don't Bomb the Suburbs
"Put this on your must read list! Courtney Martin, of Feministing and Perfect Girls, Starving Daughters fame, has just launched a new book. Do It Anyway: The New Generation of Activists profiles the work of eight activists, doing what they can to make this world a better place."
- The Real Deal
Book Videos