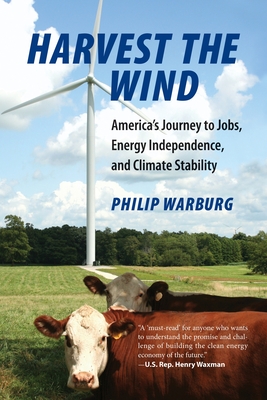 Harvest the Wind
America's Journey to Jobs, Energy Independence, and Climate Stability
Paperback

* Individual store prices may vary.
Other Editions of This Title:
Hardcover (4/17/2012)
Description
Winds sweeping through the Great Plains once robbed the Farm Belt of its future, stripping away overworked topsoil and creating the dreaded Dust Bowl of the 1930s. Today, those winds are bringing new hope to the declining rural communities of the central United States. Nowhere is wind's promise more palpable than in Cloud County, Kansas, where the soaring turbines of the Meridian Way Wind Farm are boosting incomes and bringing green jobs to a community that has, for decades, watched its children drift away.

In Harvest the Wind, Philip Warburg brings readers face-to-face with the people behind the green economy–powered resurgence in Cloud County and communities like it across the United States. This corner of Kansas is the first stop on an odyssey that introduces readers to farmers, factory workers, biologists, and high-tech entrepreneurs—all players in a transformative industry that is taking hold across America and around the globe.
 
In this illuminating book, Warburg reveals both the remarkable growth of a breakthrough technology and the formidable challenges it faces. He visits epicenters of anti-wind opposition as well as communities that have embraced wind farms as neighbors. He guides readers through an Iowa turbine assembly plant that is struggling to compete in a global marketplace dominated by European and Chinese manufacturers. And he looks at the thousands of miles that wind-generated power will need to travel to reach American consumers.
 
Harvest the Wind is an earthly antidote to loftier treatises on global warming and green energy. By showing us how practical solutions are being implemented at the local level, Warburg offers an inspirational look at how we can all pursue a saner and more sustainable energy future—while at the same time investing in the nation's infrastructure and jumpstarting its economy.
Praise For Harvest the Wind: America's Journey to Jobs, Energy Independence, and Climate Stability…
"The definitive book on wind power."—U.S. Rep. Henry Waxman, ranking member, House Energy and Commerce Committee
 
 "Makes it clear that ... wind is fast becoming a mainstream part of the global energy system."—Dan Reicher, Science
 
"Warburg's book looks at communities ... that have seen a resurgence of farming, manufacturing and entrepreneurial spirit due to an upsurge in wind technology."—Cape Cod Times


"This text will appeal to the idealist and the environmental warrior, providing fuel for wind-power advocates by doing a hefty amount of surface-level research and footwork for them."—Library Journal

"Warburg's attitude toward the probability of energy independence is optimistic and his knowledge extensive"—Publisher's Weekly

"Combining graceful prose, analytical rigor, and colorful characters, Harvest the Wind portrays the excitement of a new industry. Much more than just an exploration of the prospects for wind energy, though, Harvest takes us along on the author's journey through the American heartland in search of the nation's soul, and its future."—Denis Hayes, National Coordinator of the first Earth Day and former director, National Renewable Energy Laboratory

"At a time when America faces growing energy, economic, environmental, and national security uncertainties, we need to tap into our core national heritage of self-reliance to turn challenge into opportunity. With Harvest the Wind, Philip Warburg presents a compelling account of real people doing just that. This is the story about our own Greatest Generation creating the victory gardens of the twenty-first century with clean, renewable energy."— Vice Admiral Dennis V. McGinn, U.S. Navy (ret.), president and CEO, American Council on Renewable Energy

"Ensuring future energy security requires a revolution in our energy thinking. In revolutions, there are winners and losers, and in the global arena there is no doubt that wind will be one of the winners. Warburg provides a vivid portrait of an industry that is quickly proving itself as a model for international collaboration in reducing our dependence on non-renewable energy sources."—Professor Katherine Richardson, Chair, Danish Commission on Climate Change Policy
Beacon Press, 9780807000496, 256pp.
Publication Date: April 23, 2013
About the Author
Philip Warburg was president of the Conservation Law Foundation, New England's leading environmental advocacy group, from 2003 to 2009. Earlier, he ran the Israel Union for Environmental Defense in Tel Aviv and was an attorney at the Environmental Law Institute in Washington, D.C. He has also worked with governments and citizen groups on anti-pollution initiatives in Egypt, Jordan, Palestine, and across Eastern Europe.
or
Not Currently Available for Direct Purchase