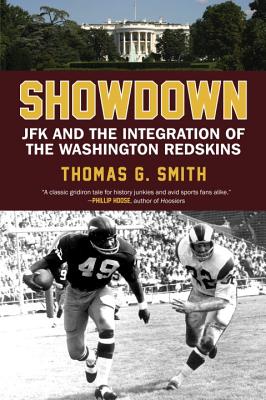 Showdown
JFK and the Integration of the Washington Redskins
Hardcover

* Individual store prices may vary.
Description
In 1961—as America crackled with racial tension—the Washington Redskins stood alone as the only professional football team without a black player on its roster. In fact, during the entire twenty-five-year history of the franchise, no African American had ever played for George Preston Marshall, the Redskins' cantankerous principal owner. With slicked-down white hair and angular facial features, the nattily attired, sixty-four-year-old NFL team owner already had a well-deserved reputation for flamboyance, showmanship, and erratic behavior. And like other Southern-born segregationists, Marshall stood firm against race-mixing. "We'll start signing Negroes," he once boasted, "when the Harlem Globetrotters start signing whites." But that was about to change.
 
Opposing Marshall was Interior Secretary Stewart Udall, whose determination that the Redskins—or "Paleskins," as he called them—reflect John F. Kennedy's New Frontier ideals led to one of the most high-profile contests to spill beyond the sports pages. Realizing that racial justice and gridiron success had the potential either to dovetail or take an ugly turn, civil rights advocates and sports fans alike anxiously turned their eyes toward the nation's capital. There was always the possibility that Marshall—one of the NFL's most influential and dominating founding fathers—might defy demands from the Kennedy administration to desegregate his lily-white team. When further pressured to desegregate by the press, Marshall remained defiant, declaring that no one, including the White House, could tell him how to run his business.
 
In Showdown, sports historian Thomas G. Smith captures this striking moment, one that held sweeping implications not only for one team's racist policy but also for a sharply segregated city and for the nation as a whole. Part sports history, part civil rights story, this compelling and untold narrative serves as a powerful lens onto racism in sport, illustrating how, in microcosm, the fight to desegregate the Redskins was part of a wider struggle against racial injustice in America.
Praise For Showdown: JFK and the Integration of the Washington Redskins…
"This excellent book will become a welcome addition to either your sports or American history library. The author paints a painful tale but one that has a very heartening ending."—American Chronicle 

"A sports and environmental histo­rian, Smith skillfully follows two nar­ratives—the founding and growth of the Redskins franchise and the move to integrate pro football—until they collide in 1961, producing the book's climax."—The Sunday News

"In the end, Showdown, which is thoroughly researched…does a fine job of filling in this bleak episode on our cultural history…"—The New York Review of Books 

"Smith brings out all the little footnotes that get left on history's doorstep in Showdown…It's a fascinating read."—New York Amsterdam News

"Smith's book is well researched and full of colorful detail...it tells an underappreciated story of social change."—Boston Globe
 
"Smith does a great job of outlining the history of Marshall and the Redskins as well as the civil rights movement in the sports world…paints a broad picture that allows the reader to learn the background of the major players and the social climate at the time…An interesting read for those looking to learn more about the early history of football and civil rights in sports."—RealClearSports.com 

"Thomas Smith relies on years of research and clear-eyed prose as he depicts a regrettable time when George Preston Marshall's all-white Washington Redskins stubbornly refused to use African-American players. In a fascinating narrative, the indefatigable Marshall is an aging football lion surprised to find himself backed into a corner by the gathering forces of a new era."—John Eisenberg, author of That First Season: How Vince Lombardi Took the Worst Team in the NFL and Set It on the Path to Glory
 
"Much has been written about the Boston Red Sox as MLB's final hold-out against racial integration, but comparatively little has been written about their NFL analog—the stubbornly intransigent Washington Redskins. A well-researched and much needed exploration, Showdown captures a racially discriminatory moment in sports history that should no longer be ignored."—N. Jeremi Duru, author of Advancing the Ball: Race, Reformation, and the Quest for Equal Coaching Opportunity in the NFL
 
"Showdown is a poignant and powerful work, a gripping story that will be of interest to anyone wanting to see beyond the hoopla of professional athletics and to understand the turf war that went on in the hallowed sanctum of professional football to eradicate Jim Crow and the color line. Smith's book should be mandatory reading for all NFL players, owners, and fans."—Donald Spivey, author of Fire From The Soul: A History of the African-American Struggle  

"Richly detailed and impeccably researched, Smith recounts a significant yet relatively unknown episode in the social history of sport. Included in this riveting story is a cast of some of the biggest names in sports and politics of the era—from JFK to Jackie Robinson. Showdown is a classic gridiron tale for history junkies and avid sports fans alike."—Phillip Hoose, National Book Award winner, author of Claudette Colvin: Twice Towards Justice and Hoosiers
 
"Smith has written a thoughtful and engaging book that details the racial integration of one of professional football's most storied franchises. With great insight and passion, he explains how African American athletes finally cracked the color barrier to play for the Washington Redskins amid the turmoil of the civil rights movement and the nation's quest for equality on and off the playing field."—David K. Wiggins, author of Glory Bound: Black Athletes in a White America
Beacon Press, 9780807000748, 256pp.
Publication Date: September 6, 2011
About the Author
Thomas G. Smith is a member of the history program at Nichols College, where he serves as the Robert Stansky Distinguished Professor. A sports and environmental historian, he is the author of two books, "Independent: A Biography of Lewis Douglas" (with Bob Browder) and "Green Republican: John Saylor and the Preservation of America's Wilderness." He lives in Dudley, Massachusetts, and is a fervent fan of the New England Patriots and Los Angeles Dodgers.
or
Not Currently Available for Direct Purchase