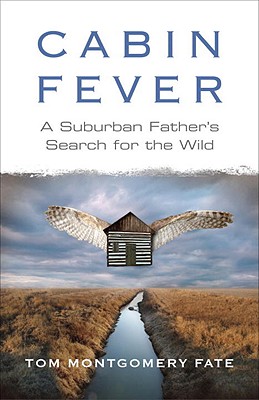 Cabin Fever (Hardcover)
A Suburban Father's Search for the Wild
Beacon Press, 9780807000960, 224pp.
Publication Date: June 7, 2011
* Individual store prices may vary.
Description
A modern Walden—if Thoreau had had three kids and a minivan—Cabin Fever is a serious yet irreverent take on living in a cabin in the woods while also living within our high-tech, materialist culture.
 
Try to imagine Thoreau married, with a job, three kids, and a minivan. This is the serious yet irreverent sensibility that suffuses Cabin Fever, as the author seeks to apply the hermit-philosopher's insights to a busy modern life.
 
Tom Montgomery Fate lives in a Chicago suburb, where he is a husband, father, professor, and active member of his community. He also lives in a cabin built with the help of friends in the Michigan woods, where he walks by the river, chops wood, and reads Thoreau by candle light.
 
While he divides his time between suburbia and the cabin, Fate's point is not to draw a line between the two but to ask what each has to say about the other. How do we balance nature (picking blackberries) with technology (tapping BlackBerrys)? What is revealed about human boundaries when a coyote wanders into a Quiznos? Can a cardinal protecting chicks from a hungry cat teach us anything about instincts and parenting? Fate seeks a more attentive, deliberate way of seeing the world and our place in it, not only among the trees and birds but also in the context of our relationships and society.
 
A seasonal nature memoir, Cabin Fever takes readers on a search for the wild both in the woods and within ourselves. Although we are often estranged from nature in our daily lives, Fate shows that we can recover our kinship with the earth and its other inhabitants if we are willing to pay attention.
 
In his exploration of how we are to live "a more deliberate life" amid a high-tech, material world, Fate invites readers into an interrogation of their own lives, and into a new kind of vision: the possibility of enough in a culture of more.
About the Author
Tom Montgomery Fate is the author of four books, including the collection of essays"Beyond the White Noise" and the spiritual memoir "Steady and Trembling." His essays have appeared in the "Chicago Tribune, Boston Globe, Orion, Iowa Review, Fourth Genre, Christian Century, "and many other publications, and they often air on NPR's" Living On Earth" and Chicago Public Radio. He is a professor of English at College of DuPage in Illinois, where he lives with his family. His cabin is in southwest Michigan.
Praise For Cabin Fever: A Suburban Father's Search for the Wild…
Recommended by USA Today

"I grew fond fast of this book, and it's hard not to. Fate is a man who brings coyotes and cougars to the page in a thoughtful, beautiful prose that's readable, lyrical, and begs the reader to slow down and take their time. The book is a wide, deep river, best observed with a cup of coffee as the sun's coming up over the ridge and the night's crickets have given way to the scratching and calls of the morning's towhees."—Terrain.org

"Tom Montgomery Fate's charming volume is about his search for meaning in the suburbs, a search that takes him to the woods of Michigan where he builds his own cabin…What makes Cabin Fever such good reading is that the author doesn't try to be a modern-day Thoreau…The magic of Cabin Fever is the author's willingness to move back and forth between the two worlds of hectic suburbs and the more isolated nature-soaked cabin."—Christian Century 

"Cabin Fever is a quietly stunning book, organized around the four seasons, much as Walden is structured…His elegant and rhythmic prose is about embodiment and the fight we must make to swim against the current that seeks to sweep us away from such bold and incarnational living…Not all books invite us to enter their lives in so intimate a fashion, to join our own patterns of living with theirs. But Fate's admission that he is a "slow and bungling pilgrim" serves as an admonition and a blessing to his readers to go and live, even if imperfectly, this one blessed life we've been given."—Brevity

"May touch a chord in a desperate urban-dweller's heart … may also show … that Mother Earth's bosom is not always welcoming to mere humans." —Wall Street Journal

"His account of a quest for a "more deliberate life," inspired by a re-reading of Thoreau's Walden several years ago, is refreshingly modest but also aching with yearning for the Home we all desire."—Christianity Today  

"His frank, poignant, and funny essays grapple with the quandaries inherent in the effort to live a balanced life. Fate's clarion musings on place, time, family, social responsibility, the wild, and the civilized are thoughtful and affecting in their revelations of how complex and precious life is." —Donna Seaman, Booklist, starred review, May 1, 2011

"Never snide or condescending, Fate blends the significant milestones of marriage and family in a high-tech BlackBerry society with the joys and shortcomings of being mindful in both cultures." —Publishers Weekly

"The tone of Fate's writing is serious and thoughtful, yet laced with some humor (particularly the chapter in which he imagines a gay relationship between two male cardinals)… Fate is introspective and writes in a lyrical manner, offering much food for thought in this multi-layered, 'how to live" memoir.'" —Hilary Daninhirsch, Foreword Reviews

"This quietly marvelous book is really a mystery novel at heart. The mystery is How to live?  Tom Montgomery Fate, a self-described 'slow and bumbling pilgrim,' sets out to answer this question, meandering, with Thoreau as his companion, toward the truth--or more accurately, the truths.  Henry David Thoreau has never been more relevant than he is today, and what a pleasure to follow the two of them sleuthing toward something solid in these fickle and shifting times."—David Gessner, author of Soaring with Fidel and The Tarball Chronicles
 
"With Thoreau as his guide, Tom Montgomery Fate explores a wild territory where Henry himself never dared to venture: marriage, parenthood, and the suburban backyard.  Along the way, he shows us how to embrace the challenges of our world, and our daily lives, with new grace, restoring us to the place where we should all be living: in gratitude and wonder. A profound and beautiful book."—John T. Price, author of Man Killed by Pheasant and Other Kinships
 
"In Cabin Fever, Tom Montgomery Fate has written a book as wise as it is charming.  Fate, in his deeply informed dialogue with Thoreau, never dodges the many realities of American middle-class existence that might lead to a life of quiet desperation.  Still, Cabin Fever is, finally, not a book about avoiding desperation but achieving balance."—Stuart Dybek, author of The Coast of Chicago
 
"Tom Montgomery Fate resonates with Thoreau without needing to be Thoreau. His Cabin Fever echoes Walden without pretense. It is a book for our time by a writer of our time. Fate proves himself against his transcendental literary ancestor and, in the process, gives us a contemporary book of thought, hope, and promise. Cabin Fever is an antidote to the ills of the day."—Jeffrey S. Cramer, editor of Walden: A Fully Annotated Edition and curator of the Thoreau Institute

"Quiet, beautifully written reflections on nature and the mindful life, laced with the thoughts and writings of Thoreau." —Kirkus
Book Videos
or
Not Currently Available for Direct Purchase