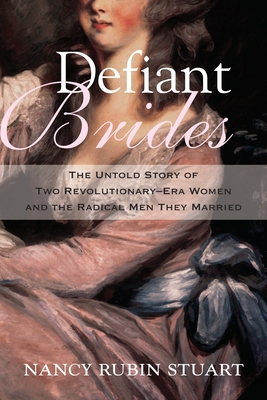 Defiant Brides
The Untold Story of Two Revolutionary-Era Women and the Radical Men They Married
Hardcover

* Individual store prices may vary.
Other Editions of This Title:
Paperback (3/4/2014)
Description
The story of two Revolutionary–era teenagers who defy their Loyalist families to marry radical patriots, Henry Knox and Benedict Arnold, and are forever changed
 
When Peggy Shippen, the celebrated blonde belle of Philadelphia, married American military hero Benedict Arnold in 1779, she anticipated a life of fame and fortune, but financial debts and political intrigues prompted her to conspire with her treasonous husband against George Washington and the American Revolution. In spite of her commendable efforts to rehabilitate her husband's name, Peggy Shippen continues to be remembered as a traitor bride.

Peggy's patriotic counterpart was Lucy Flucker, the spirited and voluptuous brunette, who in 1774 defied her wealthy Tory parents by marrying a poor Boston bookbinder simply for love. When her husband, Henry Knox, later became a famous general in the American Revolutionary War, Lucy faithfully followed him through Washington's army camps where she birthed and lost babies, befriended Martha Washington, was praised for her social skills, and secured her legacy as an admired patriot wife.

And yet, as esteemed biographer Nancy Rubin Stuart reveals, a closer look at the lives of both spirited women reveals that neither was simply a "traitor" or "patriot." In Defiant Brides, the first dual biography of both Peggy Shippen Arnold and Lucy Flucker Knox, Stuart has crafted a rich portrait of two rebellious women who defied expectations and struggled—publicly and privately—in a volatile political moment in early America.

Drawing from never-before-published correspondence, Stuart traces the evolution of these women from passionate teenage brides to mature matrons, bringing both women from the sidelines of history to its vital center. Readers will be enthralled by Stuart's dramatic account of the epic lives of these defiant brides, which begin with romance, are complicated by politics, and involve spies, disappointments, heroic deeds, tragedies, and personal triumphs.
Praise For Defiant Brides: The Untold Story of Two Revolutionary-Era Women and the Radical Men They Married…
"An ingenious means of bringing new life to the oldest story in our nation's past: the American Revolution from the perspective of the young and clear-sighted wives of generals Benedict Arnold and Henry Knox. Tracing the parallel lives of two couples with conflicting loyalties, Nancy Rubin Stuart achieves a you-are-there verisimilitude in Defiant Brides that is rare and not to be missed."
—Megan Marshall, author of The Peabody Sisters and Margaret Fuller
 
"In this lively double-biography, Nancy Rubin Stuart reveals the resilient lives of a leading patriot and a notorious Loyalist: both of them women.
Lucy Flucker Knox and Peggy Shippen Arnold deftly performed the parlor politics that helped to shape the American Revolution in surprising ways."
—Alan Taylor, author of The Civil War of 1812
 
"Written with verve and compassion, Nancy Rubin Stuart's portrait of two extraordinary marriages of the American Revolution offers a valuable and moving reminder that even in the most dramatic of public events, private passions prevailed and participants remained, first and foremost, husbands and wives."
—Marla R. Miller, author of Betsy Ross and the Making of America
  
"A captivating look at two marriages, marked by bold rebellion and fierce loyalty. The wives of traitor Benedict Arnold and Revolutionary hero Henry Knox never met, and died an ocean apart, but Stuart's story of their marriages, full of love, passion, betrayal, and disappointments, reads like a Hollywood script."
—Betty Boyd Caroli, author of First Ladies

"An effortless read and a fresh perspective on the American Revolution." 
—Shelf Awareness (starred review)

"Stuart… draws on her long experience writing about women and social history to show that strong women have always driven their husbands to perform prominent actions, both good and bad."
—Kirkus Reviews

"With the seemingly endless parade of books devoted to both founding fathers and revolutionary rascals, it's nice to see some attention paid to the fervor with which some remarkable women navigated the romantic, political, and wartime challenges of the era."
—Booklist 
 
Beacon Press, 9780807001172, 264pp.
Publication Date: April 23, 2013
About the Author
Nancy Rubin Stuart is an award-winning author specializing in women's and social history. She has appeared on national television and NPR and has written for the New York Times, among other publications. Stuart is a board member of the Women Writing Women's Lives Seminar at the CUNY Graduate Center and executive director of the Cape Cod Writers Center.

Visit her on Facebook at https://www.facebook.com/NancyRubinStuart
 
or on Twitter at http://twitter.com/redancer1
or
Not Currently Available for Direct Purchase