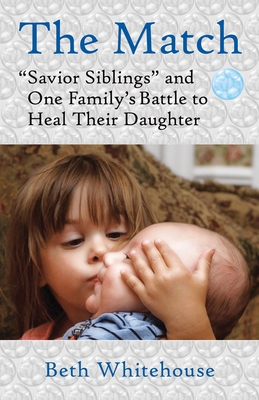 The Match: "Savior Siblings" and One Family's Battle to Heal Their Daughter (Paperback)
"Savior Siblings" and One Family's Battle to Heal Their Daughter
Beacon Press (MA), 9780807001219, 255pp.
Publication Date: March 8, 2011
* Individual store prices may vary.
or
Not Currently Available for Direct Purchase
Description
"My Sister's Keeper" in nonfiction: a family's real-life struggle to cure their daughter by creating her genetic match
Katie Trebing was diagnosed at three months oldwith Diamond Blackfan anemia, a rare form of anemia that prevents bone marrow from producing red blood cells. Even with a lifetime of monthly blood transfusions, she faced a poor prognosis. Pulitzer Prize-winning journalist Beth Whitehouse follows the Trebings as they make the decision to create a genetically matched sibling using preimplantation genetic diagnosis (PGD) and in vitro fertilization, and proceed with a risky bone-marrow transplant that could kill their daughter rather than save her. "The Match "is a timely and provocative look at urgent issues that can only become more complex and pressing as genetic and reproductive technologies advance.
About the Author
Beth Whitehouse is a Pulitzer Prize-winning reporter for "Newsday" and an adjunct professor of journalism at Columbia University's Graduate School of Journalism.
Praise For The Match: "Savior Siblings" and One Family's Battle to Heal Their Daughter…
"This is a wonderful story. . . . If a disease was killing your child, would you have another baby to try to save that child's life? And if you did, would you fear that the new child's life might be in danger as well? These are some of the very difficult questions that Stacy and Steve Trebing asked themselves before Stacy gave birth to another child, a little boy, who helped their daughter who might otherwise have died. Their story is chronicled in The Match."—Barbara Walters, The View
 
"The Match is a thought-provoking, extremely well-researched, and deeply personal account of one of the most controversial ethical dilemmas of our time. . . . A great story, and a remarkable work of journalism."—Rachel Simon, author of Riding the Bus with My Sister
 
"The Match is a riveting, vividly written tale of what happens when two powerful forces—parental love and modern science—converge to try to help a very brave child through the deliberate conception of another."—Liza Mundy, author of Everything Conceivable
Advertisement