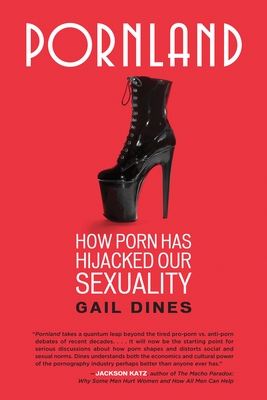 Pornland (Paperback)
How Porn Has Hijacked Our Sexuality
Beacon Press, 9780807001547, 240pp.
Publication Date: April 26, 2011
Other Editions of This Title:
Paperback (11/20/1997)
Hardcover (6/29/2010)
* Individual store prices may vary.
Description
Astonishingly, the average age of first viewing porn is now 11.5 years for boys, and with the advent of the Internet, it's no surprise that young people are consuming more porn than ever. And, as Gail Dines shows, today's porn is strikingly different from yesterday's Playboy. As porn culture has become absorbed into pop culture, a new wave of entrepreneurs are creating porn that is even more hard-core, violent, sexist, and racist. Proving that porn desensitizes and actually limits our sexual freedom, Dines argues its omnipresence is a public health concern we can no longer ignore.
About the Author
Gail Dines is professor of sociology and women's studies at Wheelock College. The author of two previous books and a regular commentator on TV and radio, Dines has been covered in Newsweek, Time, USA Today, the New York Times, Boston Globe, and Philadelphia Inquirer. She lives in Brookline, Massachusetts.
Praise For Pornland: How Porn Has Hijacked Our Sexuality…
"Pornland . . . will now be the starting point for serious discussions about how porn shapes and distorts social and sexual norms. Dines understands both the economics and cultural power of the pornography industry perhaps better than anyone ever has."—Jackson Katz, author of The Macho Paradox: Why Some Men Hurt Women and How All Men Can Help

"[A] thoughtful analysis of pornography's infiltration into the American economy, its detrimental effects on the sexual and emotional health of women and men, and its ability to perpetuate both sexism and racism."—Veronica Arellano, Library Journal
 
"Dines brilliantly exposes porn's economics, pervasiveness, and impact with scholarship as impeccable as her tone is reasonable. This book will change your life. Ignore it at your peril."—Robin Morgan
 
"An eyes-wide-open look at the way the porn industry exploits and damages the gift of our sexuality to fuel itself."—Wendy Maltz, coauthor of The Porn Trap: The Essential Guide to Overcoming Problems Caused by Pornography
 
"Bravo to Gail Dines! She exposes a huge problem of our time that few people are willing to confront. Dines follows the extensive money trail, uncovering the role of corporate duplicity and greed while showing how steadily pornography has infiltrated into everyday life from almost cradle to grave."—Diane Levin, coauthor of So Sexy, So Soon