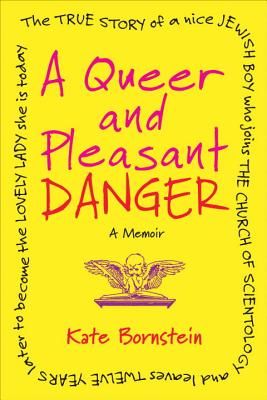 A Queer and Pleasant Danger (Hardcover)
The true story of a nice Jewish boy who joins the Church of Scientology, and leaves twelve years later to become the lovely lady she is today
Beacon Press, 9780807001653, 280pp.
Publication Date: May 1, 2012
* Individual store prices may vary.
Description
The true story of a nice Jewish boy who joins the Church of Scientology and leaves twelve years later to become the lovely lady she is today
About the Author
Kate Bornstein is a performance artist and playwright who has authored several award-winning books, including Gender Outlaw: On Men, Women, and The Rest of Us, My Gender Workbook, and Hello, Cruel World: 101 Alternatives to Suicide for Teens, Freaks, and Other Outlaws. She has earned two citations of honor from the New York City Council and garnered praise from civil rights groups around the globe. Kate lives in New York City with her girlfriend, three cats, two dogs, and a turtle.
Praise For A Queer and Pleasant Danger: The true story of a nice Jewish boy who joins the Church of Scientology, and leaves twelve years later to become the lovely lady she is today…
"Brave, emotionally authentic, and riveting." —Bitch 

"A nervy, expansive memoir from a pioneering gender activist." —Kirkus Reviews

"A singular achievement and gift to the generations of queers who consider her our Auntie, and all those who will follow."—Lambda Literary
 
"Disarmingly funny and a pleasure to read. . . . I think everyone can gain something from Kate's honest, brave account." —Feministing.com

"This memoir shines a bright, unflinching light on those reasons and the consequences of living on the far edge of the fringe… With the brave, adventurous life she's led, Bornstein gives us a reason to keep on living, too." —Bitch Magazine blog

"Kate Bornstein is brave. She is very, very brave. Her memoir, A Queer and Pleasant Danger, should be located in all three of the LGBT, self-help and biography sections of your local library and bookstores." —EDGE 

"This memoir manages to be both wrenchingly transformative and luminously wondrous, a sumptuous literary combination." —Pride Source 

"A Queer and Pleasant Danger is not for the faint-hearted, for reasons that become fairly evident (see: sadomasochism), but is ultimately uplifting, hopeful, even joyous." —Shelf Awareness

"This is a softer, sometimes sorrowful, side of the always-outspoken Kate Bornstein, and I loved it…A Queer and Pleasant Danger is a wildly wonderful read."—Long Island Pulse Magazine

"Bornstein is hilarious, honest, acerbic, and fearless in her writing…QAPD is at least three books in one, each of which is a page-turner." —Religion Dispatches

"Kate Bornstein's journey from moon-eyed Scientologist to queer icon is harrowing, heartbreaking, and amazing.  This narrative is surely not for the squeamish.  And yet, in the story of a sea-dog named Al who became a trans goddess named Kate we see the messy, unsettling, inspiring struggle of a lady trying—and at last succeeding—to let her own soul be known.  Disturbing and wondrous."—Jennifer Finney Boylan, author of She's Not There and I'm Looking Through You

"Breathless, passionate, and deeply honest, A Queer and Pleasant Danger is a wonderful book. Read it and learn."—Samuel R. Delany, author of Dhalgren

"To me, Kate Bornstein is like a mythological figure or a historical literary character such as Orlando or Candide who, by illustrating her struggles, shows the rest of us how to live. This book is destined to become a classic." —Mx Justin Vivian Bond, author of Tango: My Childhood, Backwards and in High Heels

"A Queer and Pleasant Danger is a brave, funny, edgy, and enlightening new memoir. I loved it and learned from it. Kate Bornstein shares her fascinating journey—through gender, Scientology, and more—and it was a thrill to tag along on the ride. This book is unbelievably powerful and affecting. If Kate Bornstein didn't exist, we would have to invent her. But luckily for queers, straights, gender outlaws, and general readers, Bornstein is out and out there." —Dan Savage, author, columnist, and architect of the "It Gets Better Project"

"There are a number of adjectives that one could use to describe A Queer and Pleasant Danger: snarky, funny, anguished, frightening, heartbreaking, brave, honest...this is a book that is dangerously appealing." —The Gay and Lesbian Review, July-August issue


 
Book Videos
or
Not Currently Available for Direct Purchase