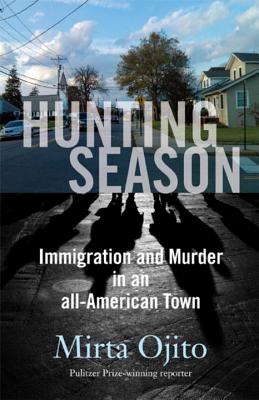 Hunting Season (Hardcover)
Immigration and Murder in an All-American Town
Beacon Press, 9780807001813, 264pp.
Publication Date: October 15, 2013
* Individual store prices may vary.
or
Not Currently Available for Direct Purchase
Description
2014 International Latino Awards Finalist The true story of an immigrant's murder that turned a quaint village on the Long Island shore into ground zero in the war on immigration In November 2008, Marcelo Lucero, a thirty-seven-year-old undocumented Ecuadorean immigrant, was attacked and murdered by a group of teenagers as he walked the streets of the Long Island village of Patchogue accompanied by a childhood friend. The attackers were out "hunting for beaners." Chasing, harassing, and assaulting defenseless "beaners"--their slur for Latinos--was part of their weekly entertainment, some of the teenagers later confessed. Latinos--primarily men and not all of them immigrants--have become the target of hate crimes in recent years as the nation wrestles with swelling numbers of undocumented immigrants, the suburbs become the newcomers' first destination, and public figures advance their careers by spewing anti-immigration rhetoric. Lucero, an unassuming worker at a dry cleaner's, became yet another victim of anti-immigration fever. In the wake of his death, Patchogue was catapulted into the national limelight as this formerly unremarkable suburb of New York became ground zero in the war on immigration. In death, Lucero became a symbol of everything that was wrong with our broken immigration system: fewer opportunities to obtain visas to travel to the United States, porous borders, a growing dependency on cheap labor, and the rise of bigotry. Drawing on firsthand interviews and on-the-ground reporting, journalist Mirta Ojito has crafted an unflinching portrait of one community struggling to reconcile the hate and fear underlying the idyllic veneer of their all-American town. With a strong commitment to telling all sides of the story, Ojito unravels the engrossing narrative with objectivity and insight, providing an invaluable look at one of America's most pressing issues.
About the Author
Mirta Ojito, a newspaper reporter since 1987, has worked for the Miami Herald, El Nuevo Herald, and, from 1996 to 2002, the New York Times, where she covered immigration, among other beats, for the Metro desk. She has received numerous awards, including a shared Pulitzer Prize for national reporting in 2001 for a series in the Times about race in America. The author of Finding Manana: A Memoir of a Cuban Exodus, she is a member of the Council on Foreign Relations and an assistant professor at the Graduate School of Journalism at Columbia University in New York City.
Praise For Hunting Season: Immigration and Murder in an All-American Town…
"Pulitzer Prize–winning journalist Ojito achieves another award-worthy feat, this time for her treatment of the minefield issue of immigration." —Booklist, starred review

"An in-depth look at the entwined issues of racism and anti-immigration sentiment." —Kirkus Reviews

"Aptly captures a town's struggle to reconcile its lilywhite past with its increasingly diverse present." —Mother Jones

"Hunting Season provides a stunningly fair vision of what immigration from Latin America has meant for pockets of the suburban United States." —Columbia Journalism Review

"An account that is as unflinching as it is important. Both an incisive reconstruction of a heartbreaking murder and an unsparing diagnosis of a national malady … with Hunting Season Ojito has done truth an invaluable service. Extraordinary." —Junot Díaz , author of The Brief Wondrous Life of Oscar Wao

"Mirta Ojito tells a powerful story, connecting us with the real-life people who are all too often left out of the immigration debate. This book should be required reading in any community grappling with the issues of immigration, which often remain abstract and divisive.… Masterfully written, imbued with a deep, compassionate, and healing intelligence." —Julia Alvarez, author of A Wedding in Haiti

"Compelling and complex … Told with the authority of a much-respected journalist, whose own experience as an immigrant lends this book the depth, insights, and poignancy that only someone of her experience can convincingly—and rightfully—convey." —Oscar Hijuelos, Pulitzer Prize–winning author of The Mambo Kings Play Songs of Love

"Through a powerful and true story, Hunting Season brings to life how an all-American town confronts immigration. This book reveals not only the shortcomings of our immigration system but also reminds us how we might think of each other and how we treat all of our neighbors, whether or not they look like us. This is our human story." —Wes Moore, author of The Other Wes Moore

"With the hyperbolic rhetoric of immigration spewing from every medium, we forget that there are dreams on either side of the divide that has cleaved United States society and threatens our sense of self. Respected journalist Mirta Ojito writes about immigration from the perspective of those who have lived it: from the Italian-descendant mayor of Patchogue to a naturalized waiter from Colombia, from undocumented Ecuadorean laborers to teenagers pumped on adrenaline with not enough to do on a fall night—to heartbroken parents on two continents. This is an important book. I couldn't put it down." —Esmeralda Santiago, author of When I Was Puerto Rican
Advertisement