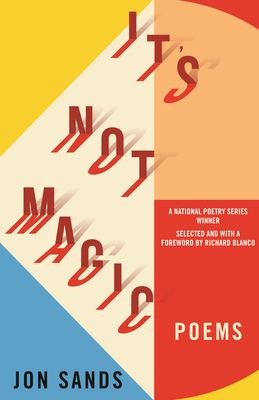 It's Not Magic (Paperback)
Beacon Press, 9780807002254, 112pp.
Publication Date: October 1, 2019
* Individual store prices may vary.
Description
Snapshots of youth, displayed with verve and sparkling clarity, in a new collection of poems that "dazzles with its linguistic sleight of hand" (Richard Blanco).

From jaunts through New York subways, to a Cincinnati Waffle House, to a chance encounter with one's future life partner, Sands writes in turns autobiographically and imaginatively, drawing on voices from his private world and the public sphere to create an urgent portrait of youth that is almost rebellious in its sheer, persistent joy. Nostalgic and vivid, this collection of poems is written reverie. Selected by Richard Blanco, Jon Sands is the winner of the 2018 National Poetry Series.
About the Author
Jon Sands is the author of The New Clean and the cohost of The Poetry Gods podcast. His work has been featured in the New York Times and anthologized in The Best American Poetry. He's received residencies and fellowships from the Blue Mountain Center, the Brooklyn Arts Council, the Council of Literary Magazines and Presses, and the Jerome Foundation. He lives in Brooklyn, NY.
Praise For It's Not Magic…
"Could a sentence be a life, or, at least, a version of one? A thing we read this way and that way, unpinnable? Everywhere here is the discipline of trying—to sense, read, be, get free. I mean: this book is a series of astonishments. And the way it is made of Sands' everything—dreams, once-secrets, goodbyes, golds, and embarrassments—makes me know that any life is also a book of poems. Difficult, impossible, gleaming. What brilliant and generous work this is."
—Aracelis Girmay, Kingdom Animalia

"Opening with a question, Jon Sands invites us into a personal journey that is at once comic, deadly serious, beautifully meditative, and completely within the praxis of being human. Sands's magic lies not in the sleight of hand or the sudden disappearance of objects; it is more about walking backwards, the lifesaving text, and a life that refuses to be lived in silence. It's Not Magic is the truth at rapid speed and a bounty of innovation."
—Willie Perdomo, The Crazy Bunch

"I shall resist hyperbole. I shall abstain (barely) (maybe) from the urge to bellow from the rafters. I will not babble ceaselessly about how this book will fervently rollick an often fickle poetic oeuvre, how it will soon be apparent (hallelujah) (finally) that one Jon Sands is the raconteur we've been waiting for. Savoring these poems, it's hard to believe that Jon strides the same world we do—these inventive stanzas resurrect, reconstruct, rejigger, and redefine, all with that enviable Sands signature. (There's nothing like this.) (Wow.)"
—Patricia Smith, Incendiary Art