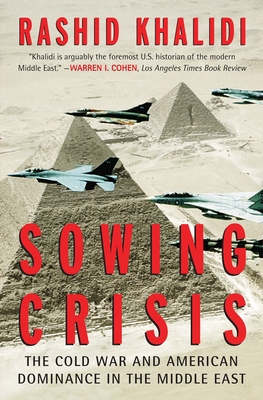 Sowing Crisis: The Cold War and American Dominance in the Middle East (Paperback)
The Cold War and American Dominance in the Middle East
Beacon Press (MA), 9780807003114, 308pp.
Publication Date: January 1, 2010
Description
Acclaimed historian and political commentator Rashid Khalidi presents the compelling case that U.S. and Soviet intervention in the Middle East not only exacerbated civil wars and provoked the breakdown of fragile democracies, but continues to this day to shape global conflict in the region. Examining the strategic interplay of cold war superpowers, Khalidi explains how the momentous events that have occurred over the last two decades--including two Gulf wars, the occupation of Iraq, and the rise of terrorism--can only be understood in light of this chilling legacy.
About the Author
Rashid Khalidi is the author of seven books about the Middle East, including Palestinian Identity, Brokers of Deceit, Resurrecting Empire, The Iron Cage, and Sowing Crisis. His writing on Middle Eastern history and politics has appeared in the New York Times, Boston Globe, Los Angeles Times, Chicago Tribune, and many journals. For his work on the Middle East, Professor Khalidi has received fellowships and grants from the John D. and Catherine T. MacArthur Foundation, the Ford Foundation, the Woodrow Wilson International Center for Scholars, the American Research Center in Egypt, and the Rockefeller Foundation, among others. He is the Edward Said Professor of Modern Arab Studies at Columbia University in New York and is editor of the Journal of Palestine Studies.
Praise For Sowing Crisis: The Cold War and American Dominance in the Middle East…
Khalidi provides a compelling history of modern conflict in the Middle East . . . [he] has written an important book, essential for anyone concerned about the stability of the Middle East.—Publishers Weekly, starred review, Pick of the Week

"[G]ets the reader up to speed on many of the disputes that have made the Middle East a flashpoint in today's U.S. foreign policy. Khalidi places it all in context, and infuses it with sharp analysis. He writes engagingly and knowledgeably about U.S. and Soviet maneuvers that exacerbated the already severe tensions between Arab states and Israel."—Kirkus Reviews

"A stunningly clear analysis of the geopolitics of Middle East conflicts from 1945 to today. A book not to be missed."—Immanuel Wallerstein, author of European Universalism

"Khalidi is arguably the foremost U.S. historian of the modern Middle East."—Warren I. Cohen, Los Angeles Times Book Review

"[T]he president . . . should read [this book], not so much to chasten his sunny view of our recent past in the Middle East as to be reminded how very hard it is to make progress in a region where memories are long."—James Traub, New York Times Book Review
Advertisement