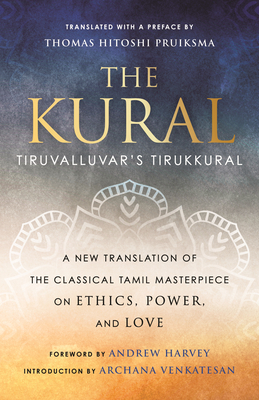 The Kural
Tiruvalluvar's Tirukkural
Hardcover

* Individual store prices may vary.
Description
A new translation of the classical Tamil masterpiece on ethics, power, and friendship, bringing Tiruvalluvar's poetry and philosophy to a new generation seeking practical wisdom and spiritual sustenance

Drawing on the poetic tradition of W. S. Merwin, Wendell Berry, and William Carlos Williams, and nurtured by 2 decades of study under Tamil scholar Dr. K. V. Ramakoti, this new translation of the Kural by Thomas Hitoshi Pruiksma brings English readers closer than ever to the brilliant inner and outer music of Tiruvalluvar's work and ideas.

Tiruvalluvar's Tirukkural is a masterwork of poetry and practical philosophy. On par with other world classics such as the Tao Te Ching, the Kural is a compendium of 1,330 short philosophical verses, or kurals, that together cover a wide range of personal and cosmic experience, such as—

POLITICS:
Harsh rule that brings idiots together—nothing
Burdens the earth more

HOSPITALITY:
The life that cherishes strangers each day
Never falls upon ruin

FRIENDSHIP:
Friendship is not a face smiling—friendship
Is a heart that smiles

GREED:
Those who won't give and enjoy—even with billions
They have nothing

Accompanying the translation is a foreword by the founder of the Institute for Sacred Activism, Andrew Harvey; an introduction by the translator and scholar Archana Venkatesan; and a "Commentary of Notes," in which Pruiksma elucidates key words and shares insights from important Tamil commentaries.

Rich with indelible wordplay, learning, and heart, Pruiksma's translation transforms the barrier of language into a bridge, bringing the fullness of Tiruvalluvar's poetic intensity to a new generation.
Praise For The Kural: Tiruvalluvar's Tirukkural…
"An intriguing new translation of this magnum opus."
—Kajal Magazine

"In the astonishingly fresh and vibrant translations that adorn this book, Tiruvalluvar's voice can now reach the universal audience that so deeply needs its universal wisdom."
—Andrew Harvey, from the Foreword

"This translation provides a refreshing remembrance and illustration (without the usual reprimands and dire warnings) of how to be a good steward of the planet and what it means to live a good life—a much-needed map of astonishingly humane guidance and care."
—Aimee Nezhukumatathil, author of World of Wonders

"[An] exquisite translation . . . To live as the wise Kuṟaḷ advises us to—in a state of chronic, cultivated empathy and in service of others—is indeed to live right and to live well."
—Archana Venkatesan, from the Introduction
Beacon Press, 9780807003619, 256pp.
Publication Date: January 11, 2022
About the Author
Thomas Hitoshi Pruiksma is an author, poet, performer, and teacher. His books include The Safety of Edges and Give, Eat, and Live: Poems of Avvaiyar. Pruiksma teaches writing for Cozy Grammar and has received grants and fellowships from the National Endowment for the Arts, 4Culture, Artist Trust, the Squaw Valley Community of Writers, the US Fulbright Program, the American Literary Translators Association, and Oberlin Shansi.

Andrew Harvey is an internationally acclaimed poet, novelist, translator, mystical scholar, and spiritual teacher.

Archana Venkatesan is professor of religious studies and comparative literature at the University of California.