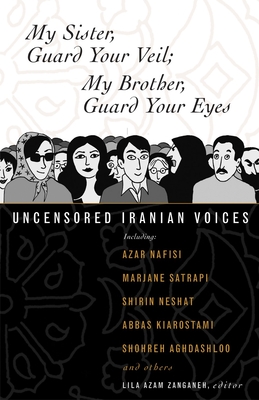 My Sister, Guard Your Veil; My Brother, Guard Your Eyes (Paperback)
Uncensored Iranian Voices
Beacon Press, 9780807004630, 146pp.
Publication Date: April 1, 2006
* Individual store prices may vary.
Description
In the first anthology of its kind, Lila Azam Zanganeh argues that although Iran looms large in the American imagination, it is grossly misunderstood-seen either as the third pillar of Bush's infamous "axis of evil" or as a nation teeming with youths clamoring for revolution.

This collection showcases the real scope and complexity of Iran through the work of a stellar group of contributors-including Azar Nafisi and with original art by Marjane Satrapi. Their collective goal is to counter the many existing cultural and political clichés about Iran. Some of the pieces concern feminism, sexuality, or eroticism under the Islamic Republic; others are unorthodox political testimonies or about race and religion. Almost all these contributors have broken artistic and cultural taboos in their work.

Journalist Reza Aslan, author of No God But God, explains why Iran is not a theocracy but, rather, a "mullahcracy." Mehrangiz Kar, a lawyer and human rights activist who was jailed in Iran and is currently a fellow at Harvard's Kennedy School of Government, argues that the Iranian Revolution actually engendered the birth of feminism in Iran. Journalist Azadeh Moaveni reveals the underground parties and sex culture in Tehran, while Gelareh Asayesh, author of Saffron Sky, writes poignantly on why Iranians are not considered white in America, even though they think they are. Poet and writer Naghmeh Zarbafian expounds on the surreal experience of reading censored books in Iran, while Roya Hakakian, author of Journey from the Land of No: A Girlhood Caught in Revolutionary Iran, recalls the happy days of Iranian Jews. With a sharp, incisive introduction by Lila Azam Zanganeh, this diverse collection will alter what you thought you knew about Iran.

"My Sister, Guard Your Veil; My Brother, Guard Your Eyes aims to corrode fixed ideas and turns cultural and political clichés on their heads . . . Iranians themselves live in a complex and schizophrenic reality, at a surreal crossroads between political Islam and satellite television, massive national oil revenues, and searing social inequalities."--From the Introduction by Lila Azam Zanganeh

Contributors include: Azar Nafisi, author of the best-selling Reading Lolita in Tehran, Marjane Satrapi, author of Persepolis, Shirin Neshat, internationally acclaimed visual artist, Abbas Kiarostami, award-winning filmmaker of Taste of Cherry, Shohreh Aghdashloo, Oscar nominee for House of Sand and Fog, Azadeh Moaveni, author of Lipstick Jihad
About the Author
Reza Aslan, author of No god but God

Lila Azam Zanganeh graduated from the Sorbonne in Paris, France, and has a master's in international affairs from Columbia University. She has taught at Harvard University and has worked for NBC News as a Middle East specialist. Azam Zanganeh has also written for the New York Times; she lives in New York City.
Praise For My Sister, Guard Your Veil; My Brother, Guard Your Eyes: Uncensored Iranian Voices…
If you asked fifty people on the street in America to describe Iran, many would come up with a similar version of an Arab country led by a shah; they would be wrong. This small book offers a large view of Iran through the eyes of fifteen different Iranians who range from poets to writers to philosophers to film directors. The essays are intensely personal and readable—a good starting point for those who want to learn more about Iran beyond the Western perception. —Trisha Burns (PLA) AAUP Best of the Best Program