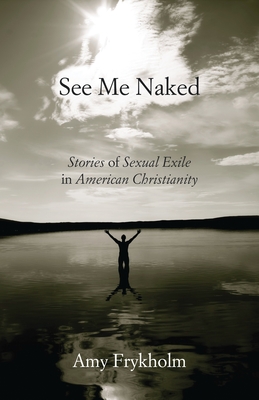 See Me Naked: Stories of Sexual Exile in American Christianity (Paperback)
Stories of Sexual Exile in American Christianity
Beacon Press (MA), 9780807004685, 184pp.
Publication Date: November 13, 2012
* Individual store prices may vary.
or
Not Currently Available for Direct Purchase
Description
'See Me Naked' takes us deep into the complex, intimate intersection of sexuality and spirituality. Telling the stories of 9 ordinary people and the religious worlds they were raised in, Amy Frykholm takes us beyond the shockingly regular headlines of sexual scandal in the church to ask how Christian cultures in America affect our sexuality.
About the Author
Amy Frykholm is author of "Rapture Culture: Left Behind in Evangelical America "and "Julian of Norwich: A Contemplative Biography." She works as a correspondent for the "Christian Century" and lives in Colorado. "From the Hardcover edition."
Praise For See Me Naked: Stories of Sexual Exile in American Christianity…
"An essential book [that] will perhaps begin the national conversation that we deserve."—Paul Landerman, Edge
 
"Frykholm and the brave souls she interviews will challenge your understanding of grace."—David K. Wheeler, Burnside Writers Collective
 
"The most redemptive book I've ever read."—Dave, Elliot Bay Bookstore

"A culturally significant collection that explores the challenges of reconciling pleasure with piety."—Kirkus

"A Christian herself, Frykholm does not offer this book as a means to discourage people from the religion. Rather, she holds up these wounded but not lost souls to critique dogmatic practices that, in disdaining the body, disdain the spirit."—Crystal K. Wiebe, Bitch
 
"A fascinating, troubling, and finally heartening book that subtly shows ways that Christians might reconcile their bodies with their devotion to God. Highly recommended for individual Christians but also for pastors and church groups."—Library Journal, starred review

"Amy Frykholm has gathered the intimate stories of people of faith in search of wholeness. These tender tales both challenge and encourage the church to listen to voices it might not hear otherwise. When it comes to integrating mind, body and spirit, the Church can serve as curse or blessing. These searingly honest stories compel us to strive for the latter."—The Rev. Lillian Daniel, author of Tell it Like it is: Recovering the Practice of Testimony
 
"This is a compelling book that traverses the teeming intersection of sexuality and faith in the life of nine individuals. They are stories of very ordinary people's struggles to live as whole beings. Their stories are rendered with such compassion and insight, however, that the result is anything but ordinary. The reader is left with the conviction that the church must, and the hope that it will, minister to people in the fullness of their lives."—The Rev. Martin B. Copenhaver, author of To Begin at the Beginning

"American Christianity is facing a crisis: our easy answers about life after death have left so many with little hope for life in their bodies here and now. Amy Frykholm chronicles this crisis in real time, inviting us to experience the pain of sisters and brothers living in exile from their flesh. But she also proclaims a gentle word of hope: 'look again at our tradition,' she seems to whisper. 'Christ is risen in a body with feet that touch the ground."–Jonathan Wilson-Hartgrove, author of The Wisdom of Stability: Rooting Faith in a Mobile Culture

"With singular gentleness and a palpable respect for those whose stories she is telling, Amy Frykholm lays bare whole areas of human sexual formation that I had never seen before, much less considered….This is an important book."—Phyllis Tickle, author of The Great Emergence: How Christianity Is Changing and Why  

"These disarmingly honest life stories of people navigating the 'tenacious strangeness' of their sexual and spiritual lives will stay with you long after you finish this book. So will the gracious, honoring, and insightful ways Frykholm tells and interprets them. It should be on every Protestant pastor's coffee table."—Timothy Beal, author of The Rise and Fall of the Bible: The Unexpected History of an Accidental Book
Advertisement