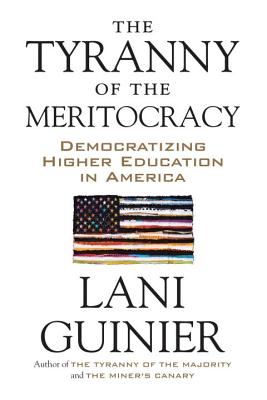 The Tyranny of the Meritocracy (Hardcover)
Democratizing Higher Education in America
Beacon Press, 9780807006276, 176pp.
Publication Date: January 13, 2015
Other Editions of This Title:
Paperback (1/12/2016)
* Individual store prices may vary.
Description
A fresh and bold argument for revamping our standards of "merit" and a clear blueprint for creating collaborative education models that strengthen our democracy rather than privileging individual elites

Standing on the foundations of America's promise of equal opportunity, our universities purport to serve as engines of social mobility and practitioners of democracy. But as acclaimed scholar and pioneering civil rights advocate Lani Guinier argues, the merit systems that dictate the admissions practices of these institutions are functioning to select and privilege elite individuals rather than create learning communities geared to advance democratic societies. Having studied and taught at schools such as Harvard University, Yale Law School, and the University of Pennsylvania Law School, Guinier has spent years examining the experiences of ethnic minorities and of women at the nation's top institutions of higher education, and here she lays bare the practices that impede the stated missions of these schools.

Goaded on by a contemporary culture that establishes value through ranking and sorting, universities assess applicants using the vocabulary of private, highly individualized merit. As a result of private merit standards and ever-increasing tuitions, our colleges and universities increasingly are failing in their mission to provide educational opportunity and to prepare students for productive and engaged citizenship.

To reclaim higher education as a cornerstone of democracy, Guinier argues that institutions of higher learning must focus on admitting and educating a class of students who will be critical thinkers, active citizens, and publicly spirited leaders. Guinier presents a plan for considering "democratic merit," a system that measures the success of higher education not by the personal qualities of the students who enter but by the work and service performed by the graduates who leave.

Guinier goes on to offer vivid examples of communities that have developed effective learning strategies based not on an individual's "merit" but on the collaborative strength of a group, learning and working together, supporting members, and evolving into powerful collectives. Examples are taken from across the country and include a wide range of approaches, each innovative and effective. Guinier argues for reformation, not only of the very premises of admissions practices but of the shape of higher education itself.
About the Author
In 1998, Lani Guinier became the first woman of color appointed to a tenured professorship at Harvard Law School. Before her Harvard appointment, she was a tenured professor at the University of Pennsylvania Law School. Guinier has published many books, including The Tyranny of the Majority, Becoming Gentlemen (with Michelle Fine and Jane Balin), Lift Every Voice, and The Miner's Canary (coauthored with Gerald Torres). She was a lawyer with the NAACP Legal Defense Fund during the 1980s and was the Special Assistant to the Assistant Attorney General for Civil Rights during the Carter Administration. In 1993 President Clinton nominated her to be the first black woman to head the Civil Rights Division of the Department of Justice, which set off a firestorm of controversy. She lives in Cambridge, Massachusetts.
Praise For The Tyranny of the Meritocracy: Democratizing Higher Education in America…
"Drawing on academic research and anecdotal evidence, the book makes a strong pedagogical case." —Kirkus Reviews

"Lani Guinier, Harvard's first Black tenured law professor, has the gift of dazzling us in speech and on the page. . . .This one is a #mustread!" —Essence Magazine

"The Tyranny of Meritocracy is a timely book. With more colleges and universities adopting test-optional admissions policies, strident criticism of the new Common Core tests emerging, and major revisions to the No Child Left Behind legislation looming on the horizon, the role that standardized testing will play in the future of American education is genuinely up for debate. Voices like Guinier's that imagine alternatives to an educational system oriented around testing are a welcome addition to the conversation." —The Boston Review

"This little book is an answer to the big question 'Why is our so-called meritocracy so blatantly unfair?' With characteristic brilliance and insight, Lani Guinier not only answers the big question but points the way toward a more just and inclusive conception of education in a democratic society.  Her transformative vision offers a hopeful alternative to our modern 'testocracy,' which values standardized test scores (which measure little more than access to privilege) over the values and qualities that will contribute to a genuinely thriving, collaborative democracy.  Tyranny of the Meritocracy is a must-read for all those who have guessed, but could not prove, that our hypercompetitive approach to higher education—which rewards those with the most wealth and privilege and blames the rest for their plight—not only makes a mockery of the term 'meritocracy' but endangers our democracy."
–Michelle Alexander, author of The New Jim Crow
 
"A visitor from Mars might wonder why—in assigning opportunity to individuals and status to higher education institutions—we  rely so heavily on a highly imperfect operationalization of merit—the standardized test—or at least why there is so little debate about this practice. In this compelling, beautifully written book, Lani Guinier, one of our nation's greatest legal minds, launches this debate anew. Hear! Hear!"  
–Claude Steele, executive vice chancellor and provost at the University of California–Berkeley
 
"Lani Guinier has written a new book that digs deep into the issue of meritocracy . . . a very powerful report on how we are to look at meritocracy and think about it in the twenty-first century. This book has something for every generation:  students, professors, and business leaders.  I recommend it with great enthusiasm. Read it and learn, but also be one who looks very carefully at the issue of meritocracy and what it means today."
–Charles J. Ogletree Jr., author of The Presumption of Guilt and All Deliberate Speed
 
"What I know is this:  we used to advertise for errand boys of 'good German descent' and we no longer do.  We don't because we now know that merit lies not in ethnic descent but in other places—in the ideas we have, in the work we do.  It is quite clear than in another fifty years today's systems of judging merit will seem to a new generation to be similar to our view of asking for a good German boy.  Lani Guinier, America's leading civil rights theorist, makes us question the notion of merit today so that we may achieve our own aspirations of an enlightened citizenry."
–Mahzarin R. Banaji, coauthor of Blind Spot: Hidden Biases of Good People
or
Not Currently Available for Direct Purchase