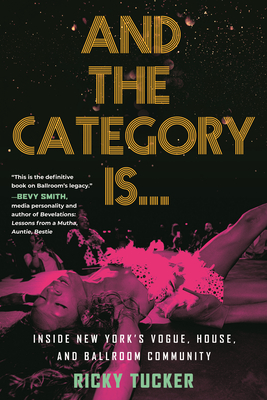 And the Category Is…
Inside New York's Vogue, House, and Ballroom Community
Paperback

* Individual store prices may vary.
Other Editions of This Title:
Hardcover (1/25/2022)
Description
An Electric Literature "Most Anticipated LGBTQ+ Book of 2022" Selection

A love letter to the legendary Black and Latinx LGBTQ underground subculture, uncovering its abundant legacy and influence in popular culture.

What is Ballroom? Not a song, a documentary, a catchphrase, a TV show, or an individual pop star. It is an underground subculture founded over a century ago by LGBTQ African American and Latino men and women of Harlem. Arts-based and intersectional, it transcends identity, acting as a fearless response to the systemic marginalization of minority populations.

Ricky Tucker pulls from his years as a close friend of the community to reveal the complex cultural makeup and ongoing relevance of house and Ballroom, a space where trans lives are respected and applauded, and queer youth are able to find family and acceptance. With each chapter framed as a "category" (Vogue, Realness, Body, et al.), And the Category Is . . . offers an impressionistic point of entry into this subculture, its deeply integrated history, and how it's been appropriated for mainstream audiences. Each category features an exclusive interview with fierce LGBTQ/POC Ballroom members—Lee Soulja, Benjamin Ninja, Twiggy Pucci Garçon, and more—whose lives, work, and activism drive home that very category.

At the height of public intrigue and awareness about Ballroom, thanks to TV shows like FX's Pose, Tucker's compelling narratives help us understand its relevance in pop culture, dance, public policy with regard to queer communities, and so much more. Welcome to the norm-defying realness of Ballroom.
Praise For And the Category Is…: Inside New York's Vogue, House, and Ballroom Community…
"'Tens! Tens across the board' for Ricky Tucker's fascinating deep dive into New York City's century-old ballroom culture."
—Shelf Awareness, Starred Review

"Extended, analytical interviews with influential dancers and activists including Lee Soulja shed valuable light on the history and meaning of ballroom . . . Readers familiar with the ballroom scene will cherish this earnest and enthusiastic survey."
—Publishers Weekly

"Ricky Tucker has crafted a masterpiece that reinforces the importance of ballroom."
—Bitch Media

"Aficionados of Ballroom will devour every page of this personal memoir-mixed-with-cultural-history. They'll love author Ricky Tucker's breathlessly told tale of finding Ballroom, and himself in it."
—Terri Schlichenmeyer, Washington Blade

"Ricky Tucker explores how Ballroom's language, fashion, and family structure have permeated pop culture for decades. He takes us beyond the watered-down, sanitized version we see in corporate ad campaigns and on TV shows to give us the history, the Black, queer, often marginalized origins of our culture . . . The definitive book on Ballroom's legacy."
—Bevy Smith, media personality and author of Bevelations: Lessons from a Mutha, Auntie, Bestie

"Our histories are worth remembering, and this is an important read for the preservation of our culture and the legacy of those who paved the way. I give this book my tens for capturing the spirit of Ballroom and keeping it grounded with love as the message."
—Emanuel Xavier, activist, poet, and author of Christ Like

"With its vivid and riveting 'thick' description of the social, spiritual, and creative genius of Ballroom culture, Tucker's book is an essential read for those who want to gain deeper knowledge and appreciation for these Black and Latinx LGBTQ communities."
—Marlon M. Bailey, author of Butch Queens Up in Pumps: Gender, Performance, and Ballroom Culture in Detroit

"Through prose that pops, dips, and kicks off the page and with an analysis that reads the children for filth who commodify queerness and Blackness, Ricky Tucker's And the Category Is . . . is snatched for the gods! Tens across the board!"
—E. Patrick Johnson, author of Honeypot: Black Southern Women Who Love Women

"Readers will come away with a sense of the amazing lives, which are led even under considerable constraint, as the ball reveals itself to be a space to make relationships, politics, and freedom in performance."
—C. Riley Snorton, author of Black on Both Sides: A Racial History of Trans Identity

"A treasure trove of insider perspective—deeply respectful, full of critique and celebration, oral history and personal narrative. A little bit academic, a lot of wisdom, and glamour, yes, of course, and context. This work is, like Ballroom itself, a crucial piece of queer history and contemporary queer culture."
—Michelle Tea, author of Against Memoir and Black Wave

"A powerful debut that captures the soul of New York's vogue, house, and Ballroom community while serving as a historical archive of the Black queer and trans narrative in the United States. An instant classic that deftly champions and solidifies vogue, house, and ball culture as radical activism, art, freedom, and refuge for Black trans women and others. Tucker enlightens with sharp critical analysis and a vulnerability that is compelling and full of love. This is a must-read of the utmost urgency."
—Keisha Bush, author of No Heaven for Good Boys

"And the Category Is . . . is a deep dive into the beauty of Ballroom culture and a chronicle of Ricky Tucker's life as a queer North Carolina native. It's that last part that makes this book so wonderful. Tucker's observations are reverent and always careful. He shows us the many ways in which ball culture is a space of care and healing, of mutual aid and familial bonds. He's dazzled by the glamor of Ballroom but willing to explore the politics and difficulties that come with creating art in a highly gendered and racialized space. Tucker helps us understand the work that goes into producing balls and protecting ball culture, as well as the performances of race, class, gender, and sexuality that hold the scene together. This is a beautiful celebration of embodiment and an original, timely contribution to the study of one of NYC's most vibrant queer scenes."
—Diana Cage, author of the Lambda Award–winning Lesbian Sex Bible
Beacon Press, 9780807007327, 248pp.
Publication Date: September 13, 2022
About the Author
Ricky Tucker is a North Carolina native, a storyteller, an educator, a lead creative, and an art critic. His work explores the imprints of art and memory on narrative, and the absurdity of most fleeting moments. He has written for the Paris Review, the Tenth Magazine, and Public Seminar, among others, and has performed for reading series including the Moth Grand SLAM, Sister Spit, Born: Free, and Spark London. In 2017, he was chosen as a Lambda Literary Emerging Writer Fellow for creative nonfiction. Connect with him at thewriterrickytucker.com.