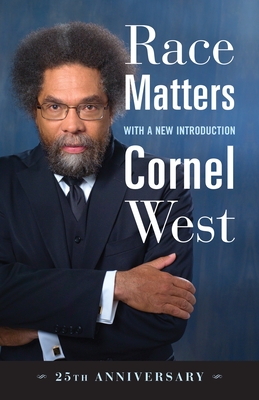 Race Matters, 25th Anniversary: With a New Introduction (Paperback)
With a New Introduction
Beacon Press, 9780807008836, 128pp.
Publication Date: December 5, 2017
Description
The fundamental litmus test for American democracy-its economy, government, criminal justice system, education, mass media, and culture-remains: how broad and intense are the arbitrary powers used and deployed against black people. In this sense, the problem of the twenty-first century remains the problem of the color line. --from the new Preface First published in 1993 on the one-year anniversary of the L.A. riots, Race Matters was a national best-seller, and it has since become a groundbreaking classic on race in America. Race Matters contains West's most powerful essays on the issues relevant to black Americans today: despair, black conservatism, black-Jewish relations, myths about black sexuality, the crisis in leadership in the black community, and the legacy of Malcolm X. And the insights that he brings to these complicated problems remain fresh, exciting, creative, and compassionate. Now more than ever, Race Matters is a book for all Americans, as it helps us to build a genuine multiracial democracy in the new millennium.
About the Author
Cornel West is a prominent and provocative democratic intellectual. He graduated magna cum laude from Harvard University in three years and obtained his MA and PhD in philosophy at Princeton University. He has taught at Union Theological Seminary, Yale, Harvard, Princeton, and the University of Paris. He has written twenty books and edited thirteen, including Black Prophetic Fire and The Radical King, a collection that reclaims Dr. Martin Luther King's prophetic and radical vision as both a civil rights leader and a human right activist. Dr. West has also made three spoken-word albums, including Never Forget, collaborating with Prince, Jill Scott, Andre 3000, Talib Kweli, KRS-One, and Gerald Levert. He is currently Professor of the Practice of Public Philosophy at Harvard University.
Advertisement