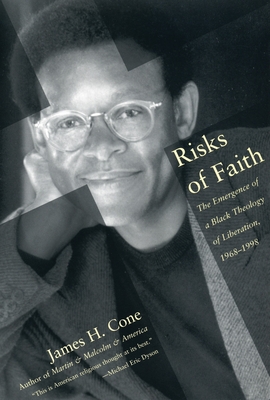 Risks of Faith (Paperback)
The Emergence of a Black Theology of Liberation, 1968-1998
Beacon Press, 9780807009512, 194pp.
Publication Date: November 1, 2000
Description
"American religious thought at its best." -Michael Eric Dyson, author of I May Not Get There with You: The True Martin Luther King, Jr. Risks of Faith offers for the first time the best of noted theologian James H. Cone's essays, including several new pieces. Representing the breadth of his life's work, this collection opens with the birth of black theology, explores its relationship to issues of violence, the developing world, and the theological touchstone embodied in African-American spirituals. Also included here is Cone's seminal work on the theology of Martin Luther King, Jr., and the philosophy of Malcolm X, and a compelling examination of their contribution to the roots of black theology. Far-reaching and provocative, Risks of Faith is a must-read for anyone interesting in religion and its political and social impact on our time. "James Hal Cone has almost singlehandedly re-shaped western theological thought to make it racially inclusive by demythologizing the conventional myths and shibboleths which kept it a white spiritual and philosophical preserve for centuries." -C. Eric Lincoln, William Rand Kenan Professor of Religion and Culture (Emeritus), Duke University "This volume of new and classic texts offers a wide-ranging introduction to the esteemed theologian's work." -Emerge "Risks of Faith shows that Cone is as much a prophet after thirty years as he was in the beginning." -Delores S. Williams, author of Black Theology in a New Key "Risks of Faith will be a revelation to those unaware that Black Religion reflects the finest modern manifestation of Jesus' teachings." -Derrick Bell, author of Gospel Choir.
Praise For Risks of Faith: The Emergence of a Black Theology of Liberation, 1968-1998…
American religious thought at its best. --Michael Eric Dyson, author of I May Not Get There with You: The True Martin Luther King, Jr.

"James Hal Cone has almost singlehandedly re-shaped western theological thought to make it racially inclusive by demythologizing the conventional myths and shibboleths which kept it a white spiritual and philosophical preserve for centuries." --C. Eric Lincoln, William Rand Kenan Professor of Religion and Culture (Emeritus), Duke University

"This volume of new and classic texts offers a wide-ranging introduction to the esteemed theologian's work." --Emerge

"Risks of Faith shows that Cone is as much a prophet after thirty years as he was in the beginning." --Delores S. Williams, author of Black Theology in a New Key

"Risks of Faith will be a revelation to those unaware that Black Religion reflects the finest modern manifestation of Jesus' teachings." --Derrick Bell, author of Gospel Choirs
Advertisement