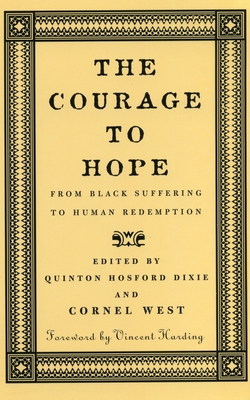 The Courage to Hope the Courage to Hope the Courage to Hope: From Black Suffering to Human Redemption from Black Suffering to Human Redemption from Bl (Paperback)
From Black Suffering to Human Redemption from Black Suffering to Human Redemption from Bl
Beacon Press, 9780807009536, 288pp.
Publication Date: November 15, 1999
Description
In this unique collaboration, the most prized and esteemed scholars in theology, religious history, and sociology offer a new understanding of American spiritual life by placing African-American religious experience at its center. Moving from specific cases in African-American history and theology to discussions of how African-American experiences can and should inform all studies of American life, they uncover the spiritual human soul that unites all of us. The editors call this project a "testament of hope," and it is a powerful tribute to the late James M. Washington, whose works were an inspirational search for universality.

Contributors include James H. Cone, David D. Daniels III, Walter E. Fluker, Cheryl Townsend Gilkes, E. Lee Hancock, Dale T. Irvin, Carolyn Ann Knight, Charles H. Long, Sandy Dwayne Martin, Genna Rae McNeil, Richard Newman, Albert J. Raboteau, Gary V. Simpson, Mark V.C. Taylor, Judith Weisenfeld, and Lucas Wilson.
About the Author
Quinton Hosford Dixie is assistant professor of Religious Studies at Indiana University. He lives in Bloomington, Indiana. Cornel West is Alphonse Fletcher, Jr., University Professor at Harvard University and author of many books, including Race Matters. He lives in Boston, Massachusetts. Vincent Harding is author of many books, including I've Known Rivers. He lives in Denver, Colorado.
Advertisement