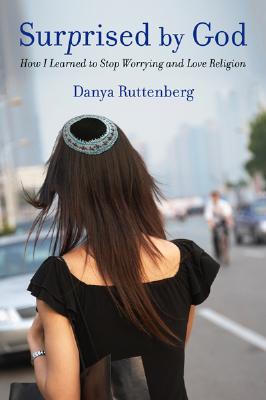 Surprised by God (Hardcover)
How I Learned to Stop Worrying and Love Religion
Beacon Press, 9780807010686, 256pp.
Publication Date: August 1, 2008
Other Editions of This Title:
Paperback (8/1/2009)
* Individual store prices may vary.
Description
At thirteen, Danya Ruttenberg decided that she was an atheist. Watching the sea of adults standing up and sitting down at Rosh Hashanah services, and apparently giving credence to the patently absurd truth-claims of the prayer book, she came to a conclusion: Marx was right.

As a young adult, Danya immersed herself in the rhinestone-bedazzled wonderland of late-1990s San Francisco-attending Halloweens on the Castro, drinking smuggled absinthe with wealthy geeks, and plotting the revolution with feminist zinemakers. But she found herself yearning for something she would eventually call God. As she began inhaling countless stories of spiritual awakenings of Catholic saints, Buddhist nuns, medieval mystics, and Hasidic masters, she learned that taking that yearning seriously would require much of her.

Surprised by God is a religious coming-of-age story, from the mosh pit to the Mission District and beyond. It's the memoir of a young woman who found, lost, and found again communities of like-minded seekers, all the while taking a winding, semi-reluctant path through traditional Jewish practice that eventually took her to the rabbinate. It's a post-dotcom, third-wave, punk-rock Seven Storey Mountain-the story of integrating life on the edge of the twenty-first century into the discipline of traditional Judaism without sacrificing either. It's also a map through the hostile territory of the inner life, an unflinchingly honest guide to the kind of work that goes into developing a spiritual practice in today's world-and why, perhaps, doing this in today's world requires more work than it ever has.
Praise For Surprised by God: How I Learned to Stop Worrying and Love Religion…
Danya Ruttenberg shares the story of her journey toward embracing observant Judaism. What makes this story fascinating and urgent is that Ruttenberg never stops thinking and asking hard questions. She reminds us that loving religion is a matter of heart and soul—and brain. And that it something to which I say amen. —Leora Tanenbaum, author and journalist

"Danya Ruttenberg marshals beautiful writing and a prodigious intellect and, leavening it all with a hefty dose of wit, tells a compelling story that has something to teach everyone who picks it up, regardless of how spiritual or religious (or not) they are."—Lisa Jervis, cofounder of bitch: feminist response to pop culture

"Ruttenberg's honesty, depth, wit, and eloquence light up every page."—Carol Lee Flinders, author of Enduring Lives: Portraits of Women and Faith in Action

"The philosopher in me loves the unfettered and deep intellectual challenges to which Ruttenberg subjects religion in general and Judaism in particular. The rabbi in me appreciates how she wrestles with Judaism in as intense a way as Jacob wrestled with the angel. The person in me loves her unmitigated integrity and honesty. All in all, Surprised by God is truly a treat!"—Rabbi Elliot Dorff, Ph.D., author of Knowing God: Jewish Journeys to the Unknowable and distinguished professor of philosophy, American Jewish University

"What makes Danya Ruttenberg's engaging spiritual memoir especially unique is her commitment to her modern values-such as feminism and humanism-and her insistence that she can be both a religiously observant Jew and an enlightened human being. This moderate religious approach is refreshingly mature in a world of religious fundamentalism and extremism. Ruttenberg's search for meaning in an often superficial American culture should inspire readers to embark on their own spiritual paths, and Ruttenberg herself is living proof that discovering God and even religion does not necessarily mean losing one's inner core."—Rabbi Dr. Haviva Ner-David, author of Life on the Fringes: A Feminist Journey Toward Traditional Rabbinic Ordination
or
Not Currently Available for Direct Purchase