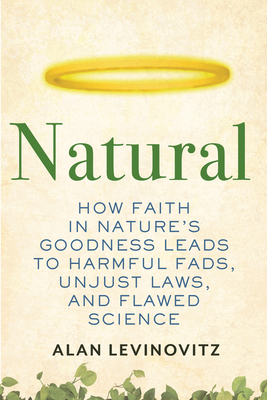 Natural
How Faith in Nature's Goodness Leads to Harmful Fads, Unjust Laws, and Flawed Science
Hardcover

* Individual store prices may vary.
Other Editions of This Title:
Paperback (5/4/2021)
Compact Disc (5/19/2020)
MP3 CD (5/19/2020)
Description
Illuminates the far-reaching harms of believing that natural means "good," from misinformation about health choices to justifications for sexism, racism, and flawed economic policies.

People love what's natural: it's the best way to eat, the best way to parent, even the best way to act—naturally, just as nature intended. Appeals to the wisdom of nature are among the most powerful arguments in the history of human thought. Yet Nature (with a capital N) and natural goodness are not objective or scientific. In this groundbreaking book, scholar of religion Alan Levinovitz demonstrates that these beliefs are actually religious and highlights the many dangers of substituting simple myths for complicated realities. It may not seem like a problem when it comes to paying a premium for organic food. But what about condemnations of "unnatural" sexual activity? The guilt that attends not having a "natural" birth? Economic deregulation justified by the inherent goodness of "natural" markets?

In Natural, readers embark on an epic journey, from Peruvian rainforests to the backcountry in Yellowstone Park, from a "natural" bodybuilding competition to a "natural" cancer-curing clinic. The result is an essential new perspective that shatters faith in Nature's goodness and points to a better alternative. We can love nature without worshipping it, and we can work toward a better world with humility and dialogue rather than taboos and zealotry.
Praise For Natural: How Faith in Nature's Goodness Leads to Harmful Fads, Unjust Laws, and Flawed Science…
"A useful stepping-off point for a relevant topic."
—Kirkus Reviews

"A nuanced plea for a more informed relationship with the natural world . . . Evocative, convincing . . . Rich with interviews, anecdotes, and citations, Levinovitz's work makes a strong case for the wisdom of compromise and humility."
—Publishers Weekly

"Levinovitz's book is an important call for more nuance over simplicity, for compromise over dogmatism, and for embracing uncertainty over certainty."
—Science

"Natural is full of clever turns and reportage."
—Los Angeles Review of Books

"A concise and imaginative exploration of the ways that people use and abuse the idea of the natural."
—Wall Street Journal

"Words have power—just look at the scrambles by ideological groups to own words like 'right to life,' 'pro-choice,' or 'family values.' In Natural, Alan Levinovitz explores the power of that word and the often highly consequential ways in which it has been appreciated, appropriated, distorted, hyped, commodified, consecrated, and weaponized. This is important stuff, as evidenced every time someone discusses the supposed naturalness and thus supposed inevitability of some appalling human behavior."
—Robert M. Sapolsky, John A. and Cynthia Fry Gunn Professor of Neurology and of Neurosurgery, Stanford University, and author of Behave: The Biology of Humans at Our Best and Worst

"In Natural, Alan Levinovitz provides a bracing corrective to our often misplaced faith in all things derived from nature. Throughout its exploration of a fascinating range of issues, from vanilla to wolves, the book is both thoughtful and addictively readable."
—Deborah Blum, Pulitzer Prize–winning science journalist and author of The Poison Squad: One Chemist's Single-Minded Crusade for Food Safety at the Turn of the Twentieth Century

"The idea of 'natural' is one of the most potent forces in our culture, shaping everything from cosmetics to public policy—sometimes for the better, more often not. What makes 'natural' so powerful is, in part, the fact that it is seldom laid bare and considered carefully. In Natural, Alan Levinovitz does that and more. With elegant prose, engaging stories, and nuanced judgments, he thoughtfully explores an idea that shapes our mental landscape."
—Dan Gardner, author of Risk: The Science and Politics of Fear

"In a fascinating tour across time, cultures, and ideas, Alan Levinovitz shows us how the worship of an abstract idea of nature can lead us astray in everything from our health to the laws we pass and even how we structure our governments and our way of life. This book is required reading for anyone who wants to face the scientific and moral challenges of the twenty-first century with a clear head."
—Tom Nichols, author of The Death of Expertise
Beacon Press, 9780807010877, 264pp.
Publication Date: April 7, 2020
About the Author
Alan Levinovitz is associate professor of religious studies at James Madison University. In addition to academic journals, his writing has appeared in Wired, the Washington Post, the Atlantic, Aeon, Vox, Slate, and elsewhere. Connect with him on Twitter at @AlanLevinovitz.