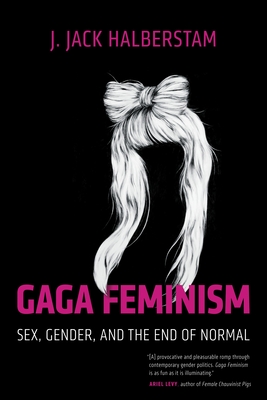 Gaga Feminism (Paperback)
Sex, Gender, and the End of Normal (Queer Ideas/Queer Action #7)
Beacon Press, 9780807010976, 184pp.
Publication Date: September 3, 2013
Other Editions of This Title:
Hardcover (9/18/2012)
* Individual store prices may vary.
Description
A roadmap to sex and gender for the twenty-first century, using Lady Gaga as a symbol for a new kind of feminism

Why are so many women single, so many men resisting marriage, and so many gays and lesbians having babies? 
 
In Gaga Feminism: Sex, Gender, and the End of Normal, J. Jack Halberstam answers these questions while attempting to make sense of the tectonic cultural shifts that have transformed gender and sexual politics in the last few decades. This colorful landscape is populated by symbols and phenomena as varied as pregnant men, late-life lesbians, SpongeBob SquarePants, and queer families. So how do we understand the dissonance between these real lived experiences and the heteronormative narratives that dominate popular media? We can embrace the chaos! With equal parts edge and wit, Halberstam reveals how these symbolic ruptures open a critical space to embrace new ways of conceptualizing sex, love, and marriage.
 
Using Lady Gaga as a symbol for a new era, Halberstam deftly unpacks what the pop superstar symbolizes, to whom and why. The result is a provocative manifesto of creative mayhem, a roadmap to sex and gender for the twenty-first century, that holds Lady Gaga as an exemplar of a new kind of feminism that privileges gender and sexual fluidity.
 
Part handbook, part guidebook, and part sex manual, Gaga Feminism is the first book to take seriously the collapse of heterosexuality and find signposts in the wreckage to a new and different way of doing sex and gender.
About the Author
J. Jack Halberstam is the author of four books, including Female Masculinity and The Queer Art of Failure. Currently a professor of American studies and of ethnicity and gender studies at the University of Southern California, Halberstam regularly speaks and writes on queer culture and gender issues and blogs at BullyBloggers.
Praise For Gaga Feminism: Sex, Gender, and the End of Normal (Queer Ideas/Queer Action #7)…
"Jack Halberstam—the king of feminism—has managed to make sense of pregnant men, Lady Gaga, gay marriage, and the advent of the bromance in this provocative and pleasurable romp through contemporary gender politics. Gaga Feminism is as fun as it is illuminating."—Ariel Levy, author of Female Chauvinist Pigs and staff writer at the New Yorker

"Like the remixed and mashed cultures that produced her, Lady Gaga defies simple logics and explanations. Perhaps no scholar is better equipped to go there with Gaga than J. Jack Halberstam, whose work, like Gaga, resists categorization. If Gaga Feminism is a politics of free form and improvisation, Halberstam bravely lets loose the reins."—Mark Anthony Neal, co-editor That's the Joint: The Hip-Hop Studies Reader
  
 "In this important and spirited manifesto, Jack Halberstam's signature wit, depth, and wide-ranging cultural appetites are on full display. Amid Halberstam's stories about the many-gendered world we live in, this book gives us hope that we might move toward ever more liberated modes of living."—Sara Marcus, author of Girls to the Front: The True Story of the Riot Grrrl Revolution

"Jack Halberstam's wild, playful intelligence wreaks dazzling havoc on pop culture and feminism and gender—from butch fish to deadbeat dudes, marriage, hetero(in)flexibilty, rom-coms, global capitalism, and, of course, Lady Gaga. Halberstam is the crier for and contributor to a gleeful anarchism that begins in the streets or the universities or maybe the television, and comes raging into our most intimate spheres."—Michelle Tea, author of Valencia