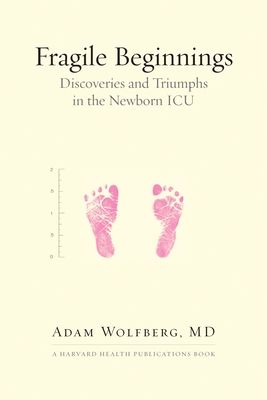 Fragile Beginnings (Hardcover)
Discoveries and Triumphs in the Newborn ICU
Beacon Press, 9780807011607, 176pp.
Publication Date: February 7, 2012
Other Editions of This Title:
Paperback (2/5/2013)
* Individual store prices may vary.
Description
Half a million babies are born prematurely in the United States every year. In this gripping medical narrative, Dr. Adam Wolfberg brings readers into the complex world of newborn intensive care, where brilliant but imperfect doctors do all they can to coax life into their tiny, injured patients. As a specialist in high-risk obstetrics and the father of a child born prematurely, Wolfberg explores the profound questions raised by such fragile beginnings, both from the front lines of the NICU and from his daughter's bedside.
 
His daughter Larissa was born weighing under two pounds, and he describes the precipitous birth at six months that left her tenuously hanging on to life in an incubator. Ultrasound had diagnosed a devastating hemorrhage in her brain that doctors reasoned would give her only a 50 percent chance of having a normal IQ. Through Larissa's early hospital course, Wolfberg examines the limitations of newborn intensive care medicine, the science of "neuroplasticity," and the dilemmas that surround decision making at the beginning of life.
 
Wolfberg also takes us into the lab where researchers are working to improve the futures of children born too soon. He follows a young scientist, Jason Carmel, who was inspired to study how the brain adapts to injury when his twin brother was paralyzed in an accident. Through lucid medical reporting, Wolfberg details current scientific practices and discoveries, and explores the profound emotional and ethical issues raised by the advancing technology that allows us to save the lives of increasingly undeveloped preemies.
 
As they make decisions about life-saving care in the first hours of a premature infant's life, doctors and parents must grapple with profound moral and medical questions: How aggressively should doctors try to save the life of a premature baby, who will be severely neurologically and physically impaired? What might that child's quality of life be like after millions of dollars are spent on her care? Wolfberg traces the fits and starts of the physicians, government policy makers, and lawyers who have struggled over the years to find the best way to make these wrenching decisions. Written from Adam Wolfberg's unique experience as a reporter, as a medical specialist and researcher, and as the father of a prematurely born daughter, Fragile Beginnings lays bare the struggles, discoveries, and triumphs of the newborn intensive care unit.
About the Author
Adam Wolfberg, MD, MPH, is a specialist in high-risk obstetrics at Tufts Medical Center and an assistant professor at Tufts University School of Medicine. He was formerly a research fellow and faculty member in the Department of Neurology at Harvard Medical School. His research into fetal brain injury is supported by grants from the National Institutes of Health and private foundations. Wolfberg has been a contributor to Newsweek, the Chicago Tribune, Slate, WSJOnline, and the Boston Globe Sunday Magazine. He is a physician spokesperson for the March of Dimes.
Praise For Fragile Beginnings: Discoveries and Triumphs in the Newborn ICU…
"A page-turner for any parent of a premature infant."—Boston Globe

"Midway through Dr. Adam Wolfberg's internship, his daughter is born severely premature. Suddenly he finds himself on the other side of the medical curtain, navigating the terrifying maze of life-threatening illness. From his unique vantage point as physician and parent, Wolfberg brings us inside neonatology and intensive care units, on a journey that is both heart-wrenching and eye-opening. Honest, perceptive, engaging."—Danielle Ofri, MD, PhD, author of Medicine in Translation and Singular Intimacies

" [An] honest, heart-wrenching yet hopeful account."—Isis Parenting

"Writing with a physician's acuity and a father's compassion, Adam Wolfberg presents a clear-eyed view of the challenges facing premature infants and their families, as well as the harrowing world of newborn intensive care. His honesty will be welcomed by anyone who has navigated this treacherous course."—Elizabeth Mehren, Professor of Journalism, Boston University, and author of Born Too Soon

 "Adam Wolfberg is uniquely qualified to write this powerful, illuminating, and much-needed book. By blending the fears and hopes of his personal story with the knowledge and insight of his professional experience, he takes readers through every aspect of the newborn intensive care unit. Truth, unsweetened by sentimentality, informs every page. I learned far more than I imagined there was to learn while being so caught up in his daughter's journey that I couldn't put the book down."—Rachel Simon, author of The Story of a Beautiful Girl

Book Videos
or
Not Currently Available for Direct Purchase