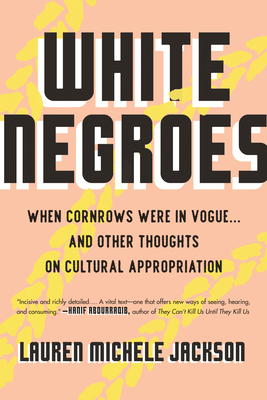 White Negroes
When Cornrows Were in Vogue ... and Other Thoughts on Cultural Appropriation
Hardcover

* Individual store prices may vary.
Other Editions of This Title:
Digital Audiobook (11/11/2019)
Paperback (10/13/2020)
MP3 CD (12/3/2019)
Compact Disc (12/3/2019)
Description
Exposes the new generation of whiteness thriving at the expense and borrowed ingenuity of black people—and explores how this intensifies racial inequality.

American culture loves blackness. From music and fashion to activism and language, black culture constantly achieves worldwide influence. Yet, when it comes to who is allowed to thrive from black hipness, the pioneers are usually left behind as black aesthetics are converted into mainstream success—and white profit.

Weaving together narrative, scholarship, and critique, Lauren Michele Jackson reveals why cultural appropriation—something that's become embedded in our daily lives—deserves serious attention. It is a blueprint for taking wealth and power, and ultimately exacerbates the economic, political, and social inequity that persists in America. She unravels the racial contradictions lurking behind American culture as we know it—from shapeshifting celebrities and memes gone viral to brazen poets, loveable potheads, and faulty political leaders.

An audacious debut, White Negroes brilliantly summons a re-interrogation of Norman Mailer's infamous 1957 essay of a similar name. It also introduces a bold new voice in Jackson. Piercing, curious, and bursting with pop cultural touchstones, White Negroes is a dispatch in awe of black creativity everywhere and an urgent call for our thoughtful consumption.
Praise For White Negroes: When Cornrows Were in Vogue ... and Other Thoughts on Cultural Appropriation…
"Jackson is uncompromising in her bold language, palpable in her outrage; she keeps her razor-sharp analysis in an accessible but academic register."
—Publishers Weekly

"A revelatory, well-argued work of cultural criticism."
—Kirkus Reviews

"A thoughtful addition to social science and African American studies collections."
—Library Journal

"Incisive and richly detailed. A vital text—one that offers new ways of seeing, hearing, and consuming."
—Hanif Abdurraqib, author of They Can't Kill Us Until They Kill Us

"White Negroes is a mature meditation for debates that have, at times, wallowed in their own intellectual infancy. The collection is witty, wry, and welcome. In the vein of Imani Perry and Zoé Samudzi, this book is an excellent addition to critical thinking about culture and contemporary racial orders"
—Tressie McMillan Cottom, author of Thick and Lower Ed

"Lauren Jackson takes a topic you've heard debated ad nauseam on social media and breathes much-needed new life into it. White Negroes is engaging and laced with wit and intelligence."
—Ira Madison III, writer and podcast host

"Miraculously, Lauren Michele Jackson is able to write about cultural appropriation in a way that doesn't make you want to drink a glass of sand. She brings incredible nuance and a sharp critical voice to a discussion that has sorely lacked both—yet somehow emerges with a text that is as accessible as it is theoretically relevant. Jackson avoids platitudes and easy answers, has a keen eye for history and popular culture, and, moreover, she is funny."
—Eve L. Ewing, author of Electric Arches and Ghosts in the Schoolyard

"With language laced with critical clarity, tempered outrage, radical snark, and researched detail, Lauren Michele Jackson's White Negroes . . . eruditely connects the dots between such disparate phenomena of the modern racial age as Eminem, Christina Aguilera, Kim Kardashian, Rachel Dolezal, the fashion and cosmetic industries, the Whitney Biennial, and the appropriation of 'Bye Felisha.' In so doing, Jackson makes us wiser and even more disturbed about how much stolen Black imaging and ideations matter to the cultural, political, and economic maintenance of the nation's anti-Black status quo."
—Greg Tate, author of Flyboy in the Buttermilk and editor of Everything but the Burden: What White People Are Taking from Black Culture
Beacon Press, 9780807011805, 184pp.
Publication Date: November 12, 2019
About the Author
Lauren Michele Jackson teaches in the Departments of English and African American Studies at Northwestern University. Her writing about race and culture has appeared in The Atlantic, The New Yorker, The Paris Review, Essence, the New Republic, Teen Vogue, Rolling Stone, and New York magazine, among many other places. She lives in Chicago. Connect with her at laurjackson.com and on Twitter (@proseb4bros).