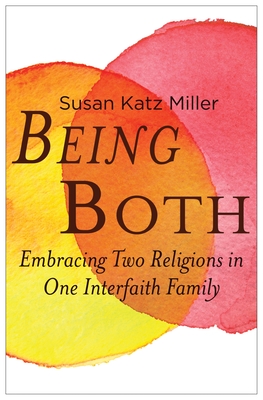 Being Both
Embracing Two Religions in One Interfaith Family
Hardcover

* Individual store prices may vary.
Other Editions of This Title:
Paperback (10/21/2014)
Description
A book on the growing number of interfaith families raising children in two religions

Susan Katz Miller grew up with a Jewish father and Christian mother, and was raised Jewish. Now in an interfaith marriage herself, she is one of the growing number of Americans who are boldly electing to raise children with both faiths, rather than in one religion or the other (or without religion). In Being Both, Miller draws on original surveys and interviews with parents, students, teachers, and clergy, as well as on her own journey, to chronicle this controversial grassroots movement.
 
Almost a third of all married Americans have a spouse from another religion, and there are now more children in Christian-Jewish interfaith families than in families with two Jewish parents. Across the country, many of these families are challenging the traditional idea that they must choose one religion. In some cities, more interfaith couples are raising children with "both" than Jewish-only. What does this mean for these families, for these children, and for religious institutions?
 
Miller argues that there are distinct benefits for families who reject the false choice of "either/or" and instead embrace the synergy of being both. Reporting on hundreds of parents and children who celebrate two religions, she documents why couples make this choice, and how children appreciate dual-faith education. But often families who choose both have trouble finding supportive clergy and community. To that end, Miller includes advice and resources for interfaith families planning baby-welcoming and coming-of-age ceremonies, and seeking to find or form interfaith education programs. She also addresses the difficulties that interfaith families can encounter, wrestling with spiritual questions ("Will our children believe in God?") and challenges ("How do we talk about Jesus?"). And finally, looking beyond Judaism and Christianity, Being Both provides the first glimpse of the next interfaith wave: intermarried Muslim, Hindu and Buddhist couples raising children in two religions.
 
Being Both is at once a rousing declaration of the benefits of celebrating two religions, and a blueprint for interfaith families who are seeking guidance and community support.
Praise For Being Both: Embracing Two Religions in One Interfaith Family…
"An insightful examination of one way that religious beliefs are shaping American families." —Kirkus Reviews

"Positive, hopeful…. Miller's enthusiasm and exhilaration at the prospect of a new generation of interfaith Americans 'healing the world' is cause for celebration. Recommended to faith practitioners of all stripes." —Library Journal

"A gorgeous and inspiring testament to the power of love to not only transcend the divides of faith and tradition, but to bring faiths together and create wholly new traditions." —Reza Aslan, author of No god but God and Zealot: The Life and Times of Jesus of Nazareth

"Hallejullah!  This is the book interfaith families like mine have been waiting for!  Susan Katz Miller serves as a wise, well-informed, progressive, steady, and plainspoken guide to the challenges and benefits--yes!  benefits!--of raising children with two faith traditions.  Reading this book I dropped tears on the pages because I felt for the first time my family was affirmed and understood and, most importantly, not alone.  This is a singular contribution to the conversation on the future of religion in America.  Every interfaith family and every religious leader who works with interfaith families should read Being Both." —Joanna Brooks, author of The Book of Mormon Girl

"Religion is never static, and always reflects the needs and mores of those who adopt and adapt it. In Being Both, Susan Katz Miller brings us into the emergent world of interfaith families, families who seek to blend traditions that others find mutually exclusive. Whatever your thoughts on religion and interfaith marriage, this book will help you think more clearly. And if you are in an interfaith marriage yourself, it may help you live more courageously." —Rabbi Rami Shapiro, author of The Sacred Art of Lovingkindness

"Interfaith families are transforming the face of religion today. People are marrying others from different religions—and they are celebrating the two traditions! For anyone who cares about families or about religion—or both—Susan Katz Miller's Being Both is a must read." —Sheila C. Gordon, PhD, President, Interfaith Community

"A moving, personal story that opens new dimensions of life in general and religious life in particular that rise out of an interfaith family. Susan Katz Miller writes with the passion of experience and with the integrity of being authentic. Its insights moved me deeply." —John Shelby Spong, author of The Fourth Gospel: Tales of a Jewish Mystic

"Engaging, comprehensive, nourishing: Being Both will serve as both guidebook and inspiration for a new generation of interfaith families." —Mary Heléne Rosenbaum, co-author, Celebrating Our Differences: Living Two Faiths in One Marriage

"Beginning with the story of her family of origin, Miller surveys the burgeoning phenomenon of families who observe two religious faiths. Her Jewish father married an Episcopalian who, though agreeing to raise the children as Jews, still informally baptized little Susan in the kitchen sink (her mother and sister each did the same, though it was years before they dared tell even one another). So began a multigenerational interfaith reality, which Susan continued as another Jew married to a Christian, this time in a ceremony that honored both religions. Four years later, the couple joined the Interfaith Families Project (IFFP) of Washington, D.C., whose mission is to raise member families' children as Jewish and Christian. From the members, clergy, and teachers of IFFP and similar organizations elsewhere, Miller gathered the stories of how these families successfully raised children who are happily interfaith and intend to raise interfaith children themselves. Miller concludes this fine resource with a look at the next wave of, this time, Christian-Muslim and Christian-Hindu interfaith families." —Booklist
Beacon Press, 9780807013199, 264pp.
Publication Date: October 22, 2013
About the Author
Susan Katz Miller is a former reporter for Newsweek and New Scientist. She lives with her interfaith family outside Washington, DC.

or
Not Currently Available for Direct Purchase