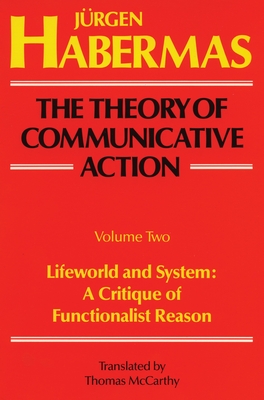 The Theory of Communicative Action: Volume 2: Lifeword and System: A Critique of Functionalist Reason (Paperback)
Volume 2: Lifeword and System: A Critique of Functionalist Reason
Beacon Press, 9780807014011, 464pp.
Publication Date: March 1, 1985
Description
Juergen Habermas opens Volume 2 with a brilliant reinterpretation of Mead and Durkheim and then develops his own approach to society, combining two hitherto competing paradigms, "system" and "lifeworld." The strength of this combination is then demonstrated in a detailed critique of Parsons's theory of social systems. Concluding with a critical reconstruction of the Weberan and Marxian treatment of modernity and its discontents, Habermas sets a new agenda for the critical theory of contemporary society. The combination of historical and theoretical sweep, analytical acumen and synthetic power, imagination and engagement mark this as one of the great works of twentieth-century social theory.
About the Author
Jurgen Habermas (born June 18, 1929) is a German sociologist and philosopher in the tradition of critical theory and pragmatism.
Praise For The Theory of Communicative Action: Volume 2: Lifeword and System: A Critique of Functionalist Reason…
One of the broadest, most comprehensive, elaborate and intensely theoretical works in social theory. Social theory and philosophy may never be the same again. --Philosophy and Social Criticism
Advertisement