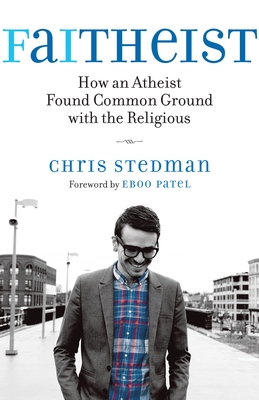 Faitheist (Hardcover)
How an Atheist Found Common Ground with the Religious
Beacon Press (MA), 9780807014394, 191pp.
Publication Date: November 6, 2012
* Individual store prices may vary.
or
Not Currently Available for Direct Purchase
Description
The popularity of the 'New Atheist' movement speaks to both the growing ranks of atheists as well as their vehement disdain for religion. In 'Faitheist', Chris Stedman challenges the orthodoxies of this movement and makes a passionate arguement that atheists should learn to respect religious identity while remaining secular.
About the Author
Chris Stedman is the Assistant Humanist Chaplain at Harvard University, the emeritus managing director of State of Formation at the "Journal of Inter-Religious Dialogue," and the founder of the first blog dedicated to exploring atheist-interfaith engagement, "NonProphet Status." Stedman writes for the "Huffington Post," the" Washington Post"'s" On Faith "blog, and "Religion Dispatches." He lives in Boston.
Praise For Faitheist: How an Atheist Found Common Ground with the Religious…
"Christians like me have heard lots of 'testimonies'—how I once was lost but now am found, was blind ... and so on. We've heard how atheists converted to Christianity, how backsliders came back to piety, and how heretics returned to orthodoxy. What we haven't heard enough of is testimonies about how a Christian became an atheist or how an atheist became a faitheist or how a gay Evangelical came out of the closet and out of the church. I've never read, heard, or met anyone better suited to this task than Chris Stedman. His beautiful writing voice, his poignant story-telling skill, his clear-eyed insight, his humane and humble empathy uniquely equip him to bear witness to everyone—especially Christians like me. Rigid anti-theists and theists alike will be challenged as they read—challenged to greater humanity, empathy, and understanding. Wholeheartedly recommended."—Brian D. McLaren, author of Why Did Jesus, Moses, the Buddha, and Mohammed Cross the Road?

"Smart. Funny. Heartening. Inspiring. Faitheist is the perfect book for those seeking a middle path between the firm, opposing certainties of religious fundamentalism and intolerant atheism."—Reza Aslan, author of No god but God and Beyond Fundamentalism

"If Chris Stedman had become a pastor, he'd have a big, big church. Instead, he's a humanist hero, a compelling writer whose efforts to build bridges between non-believers and the faithful will leave a lasting mark. Faitheist should be required reading in Sunday schools and Richard Dawkins's house alike." —Kevin Roose, author of The Unlikely Disciple

"Agree or disagree with Chris Stedman (and there will be many who do both), no one can deny that he has written a deeply human book—human in its description of his own pilgrimage and human in its call to theists and non-theists alike to seek out common ground. The world would be a better place with more Chris Stedman's in it and fortunately he has provided us a roadmap to just such a world."—The Rev. William F. Schulz, President, Unitarian Universalist Service Committee

"Who can we be together? Chris Stedman asks in this powerful book. Faitheist reveals that it's not what we believe that matters, but how our beliefs shape what we do with our lives—a timely reminder for both atheists and the religious that the goal should be neither conversion nor the destruction of religion, but rather to make a better world."—Sarah Sentilles, author of Breaking Up with God: A Love Story
 
 "Stedman the atheist pays God the ultimate compliment: He provides a vigorous, amusing dissent to the all-too-glib magical 'thinking' both most Americanized big time religion and most so-called New Atheists are selling. Unlike the New Atheist stars and America's blathering religious fundamentalists Stedman lays the groundwork for constructive engagement between all of us—no matter what we believe...or don't."—Frank Schaeffer, author of Crazy For God
 

"Chris Stedman's remarkable work has spanned from advocating for LGBTQ rights among Evangelical Christians to, in his current role at Harvard, founding the first-ever atheist-led interfaith initiative -- and he's only twenty-five. Part memoir and part blueprint, Faitheist not only recounts his personal journey (which would be a riveting story on its own), but also shows -- sensitively and humorously -- how Humanists can live out our values with both empathy and honesty. This book represents the growing secular movement at its very best." —Greg M. Epstein, Humanist Chaplain at Harvard University, author of Good Without God: What a Billion Nonreligious People Do Believe

"The searching, intelligent account of a gay man's experiences growing away from God and into a thoughtful and humane atheist… Brave and refreshingly open-minded."—Kirkus Reviews

"Enter Stedman, avowed atheist, former Fundamentalist Christian, and current interfaith activist whose heartfelt and thought-provoking account of his struggle with God and religion serves as a call to arms for those seeking to bridge the gap between the religious and the secular… To that end he paints an intimate and deeply affecting portrait of his own life, one characterized by the sort of staggering dissonances—gay Christian teen, religion-degree-seeking atheist—that could cripple a person. But Stedman is nothing if not determined, and his resulting journey toward personal reconciliation through service work and interfaith dialogue is inspiring. Stedman's story is motivational, his thoughts on interreligious dialogue insightful, and in this short memoir, he proves himself an activist in the truest sense and one to watch."
—Booklist, Starred Review

"Faitheist, a new memori by local author Chris Stedman, promotes a warm, loving, and witty serving of intercultural dialogue."—Scott Kearnan, Boston Spirit 

"An enlightening and engaging memoir."  
—Minneapolis Star Tribune  

"His book about being religious and being secular, together, offers his hope for a better world"
—Toledo Blade 
 
Advertisement