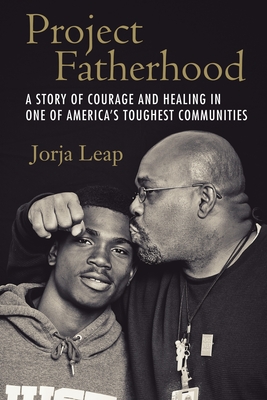 Project Fatherhood (Hardcover)
A Story of Courage and Healing in One of America's Toughest Communities
Beacon Press, 9780807014523, 256pp.
Publication Date: June 9, 2015
Other Editions of This Title:
MP3 CD (7/14/2015)
Paperback (6/7/2016)
Compact Disc (7/14/2015)
* Individual store prices may vary.
Description
A group of former gang members come together to help one another answer the question "How can I be a good father when I've never had one?"
 
In 2010, former gang leader turned community activist Big Mike Cummings asked UCLA gang expert Jorja Leap to co-lead a group of men struggling to be better fathers in Watts, South Los Angeles, a neighborhood long burdened with a legacy of racialized poverty, violence, and incarceration. These men, black and brown, from late adolescence to middle age, are trying to heal themselves and their community, and above all to build their identities as fathers. Each week, they come together to help one another answer the question "How can I be a good father when I've never had one?"

Project Fatherhood follows the lives of the men as they struggle with the pain of their own losses, the chronic pressures of poverty and unemployment, and the unquenchable desire to do better and provide more for the next generation. Although the group begins as a forum for them to discuss issues relating to their roles as parents, it slowly grows to mean much more: it becomes a place where they can share jokes and traumatic experiences, joys and sorrows. As the men repair their own lives and gain confidence, the group also becomes a place for them to plan and carry out activities to help the Watts community grow as well as thrive.

By immersing herself in the lived experiences of those working to overcome their circumstances, Leap not only dramatically illustrates the realities of fathers trying to do the right thing, but she also paints a larger sociological portrait of how institutional injustices become manifest in the lives of ordinary people. At a time in which racial justice seems more elusive than ever—stymied by the generational cycles of mass incarceration and the cradle-to-prison pipeline—the group's development over time demonstrates real-life movement toward solutions as the men help one another make their families and their community stronger.
About the Author
Jorja Leap is the author of Jumped In: What Gangs Taught Me About Violence, Drugs, Love, and Redemption, hailed as "an eye-opener and heart expander" (San Francisco Book Review). Leap has been on the faculty of the UCLA Luskin School of Public Affairs since 1992. An internationally recognized expert in gangs, violence, and crisis intervention, she is the senior policy advisor on Gangs and Youth Violence for the City and the County of Los Angeles.
Praise For Project Fatherhood: A Story of Courage and Healing in One of America's Toughest Communities…
"This book combines sociology, tough-love prescriptions, evidence of genuine growth (and the growing pains that come with it) and an eyes-wide-open account of men struggling to be better…Provides unique insights into a community intent on moving forward."
—Kirkus Reviews

"With a sharp ear for dialogue, Leap profiles the Project Fatherhood men candidly and compassionately… Leap observes and captures, in members' own words, the group's development and its members' four years of progress toward healing their families, and perhaps, their community." 
—Publishers Weekly

"Funny, hopeful, heart-warming and eye opening, Project Fatherhood has life-changing lessons for every reader."
—Shelf Awareness

"I have known Jorja Leap as a brilliant researcher, but she turns out to be an even more gifted listener and storyteller. And this is a story about men, and fathers, and race, and poverty, and struggle, and hope. This book is delivered with street-level honesty, nuance, texture, and power—and should be required reading for those among us invested in a more hopeful urban America."
—Robert K. Ross, MD, president and CEO, The California Endowment

"Jorja Leap's fine Project Fatherhood is more than an anthropological study and ethnographic research project. It is a window and a promise. The reader is given a view of courageous men as architects of their own healing. As well, it offers hope for real solutions in our inner cities born from the community itself. Leap's fidelity to these men's voices offers us all hope, resilience and the kind of profound healing so longed for in urban America."
—Gregory J. Boyle, SJ, founder and executive director, Homeboy Industries

"Jorja Leap breaks the mold. I've seen her in action, working with former gang bangers in Los Angeles' most troubled parts, prodding battle-scarred men to be better husbands and fathers; indeed, better human beings. Witnessing her among these OGs, seeing the trust she has earned and the burdens she has eased, can best be summed up in one word—amazing."
—Kurt Streeter, ESPN
Coverage from NPR
or
Not Currently Available for Direct Purchase