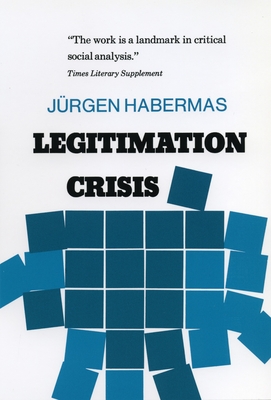 Legitimation Crisis (Paperback)
Beacon Press, 9780807015216, 196pp.
Publication Date: August 25, 1975
* Individual store prices may vary.
Description
Critical Theory originated in the perception by a group of German Marxists after the First World War that the Marxist analysis of capitalism had become deficient both empirically and with regard to its consequences for emancipation, and much of their work has attempted to deepen and extend it in new circumstances. Yet much of this revision has been in the form of piecemeal modification. In his latest work, Habermas has returned to the study of capitalism, incorporating the distinctive modifications of the Frankfurt School into the foundations of the critique of capitalism. Drawing on both systems theory and phenomenological sociology as well as Marxism, the author distinguishes four levels of capitalist crisis - economic, rationality, legitimation, and motivational crises. In his analysis, all the Frankfurt focus on cultural, personality, and authority structures finds its place, but in a systematic framework. At the same time, in his sketch of communicative ethics as the highest stage in the internal logic of the evolution of ethical systems, the author hints at the source of a new political practice that incorporates the imperatives of evolutionary rationality.
About the Author
Jürgen Habermas, professor of philosophy at the University of Frankfurt, has been hailed as the "foremost social and political thinker in Germany today" (Times Literary Supplement). Included here are essays on his theories of communication, socialization, social evolution, and the development of law and morality.
Praise For Legitimation Crisis…
"Shall we sit back and watch our social system crumble on the TV screen? Or can we step out of our private views and interests, figure out what is objectively good for the human species and act on it? More than any other diagnosis of our present crisis, such as Heilbroner's, Barraclough's, or Ehrlich's, Habermas's Legitimation Crisis penetrates its deepest causes and the prospects for change. Habermas is neither an optimist nor a pessimist; he neither appeases nor alarms. He combines comprehensive knowledge, and a rare objectivity, with a commitment to rationality and social democracy." – Jeremy J. Shapiro

"The work is a landmark in critical social analysis." – Times Literary Supplement