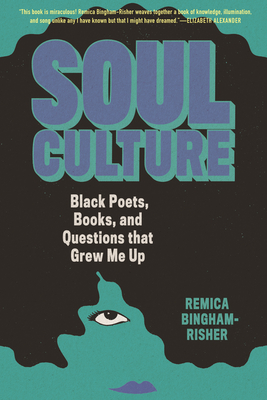 Soul Culture
Black Poets, Books, and Questions that Grew Me Up
Hardcover

* Individual store prices may vary.
Description
Examines firsthand the lives of legendary Black writers who made a way out of no way to illuminate a road map for budding creators desiring to follow in their footsteps

Acclaimed Cave Canem poet and essayist Remica Bingham-Risher interweaves personal essays and interviews she conducted over a decade with 10 distinguished Black poets, such as Lucille Clifton, Sonia Sanchez, and Patricia Smith, to explore the impact of identity, joy, love, and history on the artistic process. Each essay is thematically inspired, centered on one of her interviews, and uses quotes drawn from her talks to showcase their philosophies. Each essay also delves into how her own life and work are influenced by these elders. Essays included are these:

· "blk/wooomen revolution"
· "Girls Loving Beyoncé and Their Names"
· "The Terror of Being Destroyed"
· "Standing in the Shadows of Love"
· "Revision as Labyrinth"

Noting the frustrating tendency for Black artists to be pigeonholed into the confines of various frameworks and ideologies—Black studies, women's studies, LGBTQIA+ studies, and so on—Bingham-Risher reveals the multitudes contained within Black poets, both past and present. By capturing the radical love ethic of Blackness amid incessant fear, she has amassed not only a wealth of knowledge about contemporary Black poetry and poetry movements but also brings to life the historical record of Black poetry from the latter half of the 20th century to the early decades of the 21st.

Examining cultural traditions, myths, and music from the Four Tops to Beyoncé, Bingham-Risher reflects on the enduring gifts of art and community. If you've ever felt alone on your journey into the writing world, the words of these poets are for you.
Praise For Soul Culture: Black Poets, Books, and Questions that Grew Me Up…
"A powerful celebration of poets who 'paint life with all its many spirals and errors.' Lit lovers will be dazzled."
—Publishers Weekly

"Cover-to-cover, Soul Culture will start a discourse about Black poets and writers and Black books, and it is highly recommended for those who love poetry and Black literature, especially readers striving to become creative writers and hone their poetry-writing skills."
—Booklist

"Cohesive and sharply rendered . . . Bingham-Risher asks questions of poetry, community, and responsibility that will inspire both seasoned and aspiring poets and educators."
—Kirkus Reviews

"This collection of essays is a remarkable ode to Black poets and poetry unlike any other. Bingham-Risher examines the writing process through some of her favorites, from Lucille Clifton to Beyonce, through a lens of joy, power, love and legacy."
—Karla J. Strand, Ms.

"Never heavy-handed, the thematic connections highlighted in each chapter are imbued with grace and gratitude as the author reflects on lessons learned, bringing her whole, authentic self to the effort—as a Black poet, a mother, an educator and mentor, a daughter, and a wife."
—C-Ville Weekly

"This book is miraculous! Remica Bingham-Risher weaves together a book of knowledge, illumination, and song unlike any I have known but that I might have dreamed."
—Elizabeth Alexander

"This is a praise song for Remica Bingham-Risher. This is a gratitude moment for her devotion to Black poetry and Black poets. . . . How I love this woman, her genius, her immense spirit! How grateful I am to be part of this remarkable gathering!"
—Honorée Fanonne Jeffers

"With a genius all her own, and in the blackest ink, Remica Bingham-Risher has woven us a gorgeous, intergenerational, and polyvocal history of kinship, perseverance, Black poetry, and love. This book is a devotion. I want to share it with everyone I love."
—Aracelis Girmay

"With this book [Bingham-Risher] has produced another important documentation of how African American poets have become a realized force in American literature."
—Afaa M. Weaver

"She builds a bridge between the past and the future, gently nudging today's poet to consider their place. Remica invites you in."
—Aline Mello

"Soul Culture is a necessary guide to transcendence in the twenty-first century, a nexus of ancestors, elders, and the wise among us."
—Tracy K. Smith

"Remica Bingham-Risher's Soul Culture is more map than book. Reading, you ask, as an early Roots album once did, Do you want more?!"
—Reginald Dwayne Betts

"We do not arrive, Soul Culture reminds us, without the labor and love of who comes before us. We do not arrive without who dreamt us into being. Soul Culture honors that labor and love and dreaming. Soul Culture sings it. How necessary, how gorgeous, how true."
—Ross Gay

"Love made this book. . . . Bingham invites you into her life as a Black woman in the US—shows you the things that have wrecked her and the things that have saved her—and opens up, in the process, new definitions of faith, Blackness, and the word."
—Evie Shockley
Beacon Press, 9780807015926, 256pp.
Publication Date: September 6, 2022
About the Author
Remica Bingham-Risher is a Cave Canem fellow and Affrilachian poet. Her work has been published in the New York Times, the Writer's Chronicle, New Letters, Callaloo, and Essence, among other journals. She is the author of three volumes of her own poetry: Conversion, winner of the Naomi Long Madgett Poetry Award; What We Ask of Flesh, shortlisted for the Hurston/Wright Award; and Starlight & Error, winner of the Diode Editions Book Award. She lives in Norfolk, Virginia, with her husband and children.