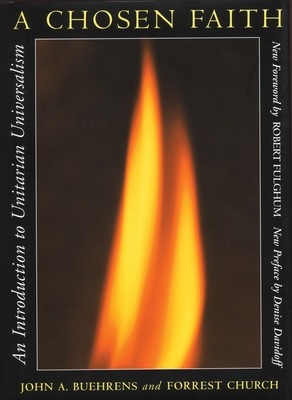 A Chosen Faith: An Introduction to Unitarian Universalism (Paperback)
An Introduction to Unitarian Universalism
Beacon Press, 9780807016176, 256pp.
Publication Date: June 1, 1998
Description
For those contemplating religious choices, Unitarian Universalism offers an appealing alternative to religious denominations that stress theological creeds over individual conviction and belief. In this new edition of the classic introductory text on Unitarian Universalism, which includes a revealing, entertaining foreword by best-selling author Robert Fulghum (All I Really Need to Know I Learned in Kindergarten, It Was on Fire When I Lay Down on It), a new preface by UU moderator Denise Davidoff, and two new chapters by the authors, John Buehrens and Forrest Church explore the many sources of the living tradition of their chosen faith.
About the Author
John A. Buehrens was President of the Unitarian Universalist Association. He served for twenty years as a parish minister in Knoxville, Dallas, and New York City. Forrest Church, minister of the Unitarian Church of All Souls in New York, is the author of many books, most recently God and Other Famous Liberals and Life Lines.
Praise For A Chosen Faith: An Introduction to Unitarian Universalism…
Learn here why definitions of the sacred in Unitarian Universalist churches are attracting ever larger and ever more grateful and reverent congregations every Sunday. --Kurt Vonnegut

"Only a free faith, a chosen faith, offers the kind of engagement that wakes us up to ourselves and makes us willing to risk what we have for what we could become. This splendid book invites us to consider just such a faith." --Marilyn Sewell

"This is simply superb. I know of nothing comparable to it. The old-timer as well as the 'come-outer' will find [A] Chosen Faith irresistible. It will be a gift for everyone, for the minister, for the laity, for theological students. Engaging, seductive, infectious. --James Luther Adams
Advertisement