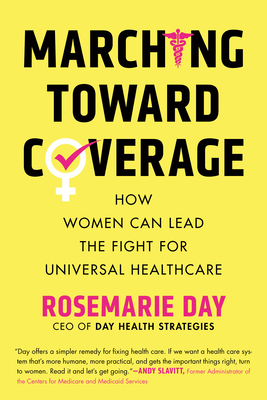 Marching Toward Coverage
How Women Can Lead the Fight for Universal Healthcare
Paperback

* Individual store prices may vary.
Other Editions of This Title:
Digital Audiobook (3/2/2020)
Description
A lively, clear explanation of the American healthcare reform movement from a noted expert—giving women the tools they need to demand fair and affordable coverage for all people

Healthcare is one of America's most dysfunctional and confusing industries, and women bear the brunt of the problem when it comes to both access and treatment. Women, who make 80 percent of healthcare decisions for their families, are disproportionately impacted by the complex nature of our healthcare system—but are also uniquely poised to fix it.

Founder and CEO of Day Health Strategies Rosemarie Day wants women to recognize their trouble with accessing affordable care as part of a national emergency. Day encourages women throughout the country to share their stories and get involved, and she illustrates how a groundswell of activism, led by everyday women, could create the incentives our political leaders need to change course.

Marching Toward Coverage gives women the clear information they need to move this agenda forward by breaking down complicated topics in an accessible manner, like the ACA (Affordable Care Act), preexisting conditions, and employer-sponsored plans. With more than 25 years working in healthcare strategy and related fields, Day helps the average American understand the business of national health reform and lays out a pragmatic path forward, one that recognizes healthcare as a fundamental human right.
Praise For Marching Toward Coverage: How Women Can Lead the Fight for Universal Healthcare…
"Day convincingly makes a case for universal coverage and more and better investments in social services."
—Booklist

"A rallying cry for women to lead a movement for universal health coverage."
—Health Affairs

"Day offers a simpler remedy for fixing healthcare. If we want a healthcare system that's more humane, more practical, and gets the important things right, turn to women. Read it and let's get going."
—Andy Slavitt, former administrator of the Centers for Medicare and Medicaid Services

"Accessible and straightforward, compelling and provocative, this book is a primer in healthcare and an activist call to action in one, a must-read for anyone interested in better health for all in the United States."
—Sandro Galea, dean of the School of Public Health at Boston University and author of Well

"Day addresses one of the issues that matters most to women and moms in our country today: protecting our healthcare. We are raising our voices, sharing our stories, and fighting to protect our coverage and to stop the price gouging that is pushing prescription drug prices out of reach for so many families. Women will indeed shape the future of healthcare in this country."
—Kristin Rowe-Finkbeiner, executive director and CEO of MomsRising

"Day's book is a breath of fresh enlightenment over a murky and complex topic. Her analysis is sharp and powered by exceptional passion and insight. Read it to be informed and mobilized."
—John McDonough, Harvard Chan School of Public Health

"Women have been at the forefront of our efforts to reduce risks in our communities—from gun violence to climate change—and they are the drivers for building healthy and sustainable homes, communities, and, ultimately, nations. In this indispensable book, Day makes the case for why activism by women for our health and healthcare is the path forward for a resilient nation."
—Juliette Kayyem, former assistant secretary, Department of Homeland Security, and author of Security Mom
Beacon Press, 9780807018934, 240pp.
Publication Date: March 3, 2020
About the Author
Rosemarie Day is the founder and CEO of Day Health Strategies, which helps to implement national health reform. She's been working in healthcare and related fields for more than 25 years, including as the founding deputy director and chief operating officer of the Health Connector in Massachusetts, where she helped launch the award-winning organization that established the first state-run health insurance exchange in the state. She also served as the chief operating officer for the Massachusetts Medicaid program. Rosemarie lives in Somerville, MA; this is her first book. Connect with her @Rosemarie_Day1 or at rosemarieday.com.
or
Not Currently Available for Direct Purchase