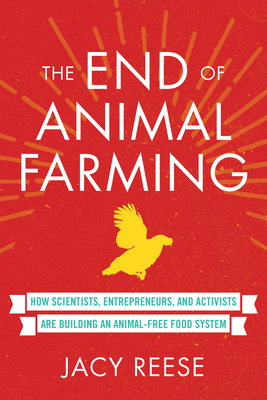 The End of Animal Farming
How Scientists, Entrepreneurs, and Activists Are Building an Animal-Free Food System
Hardcover

* Individual store prices may vary.
Other Editions of This Title:
Digital Audiobook (11/5/2018)
Paperback (10/15/2019)
MP3 CD (11/6/2018)
Compact Disc (11/6/2018)
Description
A bold yet realistic vision of how technology and social change are creating a food system in which we no longer use animals to produce meat, dairy, or eggs.

Michael Pollan's The Omnivore's Dilemma and Jonathan Safran Foer's Eating Animals brought widespread attention to the disturbing realities of factory farming. The End of Animal Farming pushes this conversation forward by outlining a strategic roadmap to a humane, ethical, and efficient food system in which slaughterhouses are obsolete—where the tastes of even the most die-hard meat eater are satisfied by innovative food technologies like cultured meats and plant-based protein. Social scientist and animal advocate Jacy Reese analyzes the social forces leading us toward the downfall of animal agriculture, the technology making this change possible for the meat-hungry public, and the activism driving consumer demand for plant-based and cultured foods.

Reese contextualizes the issue of factory farming—the inhumane system of industrial farming that 95 percent of farmed animals endure—as part of humanity's expanding moral circle. Humanity increasingly treats nonhuman animals, from household pets to orca whales, with respect and kindness, and Reese argues that farmed animals are the next step. Reese applies an analytical lens of "effective altruism," the burgeoning philosophy of using evidence-based research to maximize one's positive impact in the world, in order to better understand which strategies can help expand the moral circle now and in the future.

The End of Animal Farming is not a scolding treatise or a prescription for an ascetic diet. Reese invites readers—vegan and non-vegan—to consider one of the most important and transformational social movements of the coming decades.
Praise For The End of Animal Farming: How Scientists, Entrepreneurs, and Activists Are Building an Animal-Free Food System…
"Reese's work shows his deep concern for animals and makes clear why others should share it."
—Kirkus Reviews

"Reese does a great job in inspiring his readers (and in making their mouths water) with the idea that a different, sustainable kind of meat is possible."
—Forbes

"Places the issue of factory farming in the context of human progress and presents compelling arguments on how we should deal with it today."
—Steven Pinker, Johnstone Professor of Psychology, Harvard University, and author of The Better Angels of Our Nature and Enlightenment Now

"History has been marked by turning points like the invention of electricity and the advent of information technology. The End of Animal Farming persuasively argues that the next revolution will be a global transition to non-animal meat and milk. The animal-free food revolution will save the world, and this book is leading the way."
—Maneka Gandhi, Indian Cabinet Minister for Women & Child Development

"The End of Animal Farming makes an airtight case that the future is plant-based. It's the perfect uplifting gift for your flexitarian, vegetarian, and vegan friends."
—Dr. Michael Greger, author of How Not to Die

"In this important and riveting book, Jacy Reese proves that cool rationality and warm compassion aren't opposites. In fact, they make a great team. Reese argues persuasively that factory farming is one of the great moral crises of our day—and he provides a useful road map for ending it."
—A. J. Jacobs, author of The Year of Living Biblically

"Reese's excellent book advances our understanding of an animal-free food system, including its environmental benefits. It is a valuable resource for both students and scholars interested in emerging technologies, social and psychological systems, and case studies. Reese's writing is clear and accessible, making it perfect for undergraduate and graduate students, readers curious about the topic, and advocates interested in ensuring that their actions are effective."
—Christopher Schlottmann, clinical professor of environmental studies at New York University

"Jacy Reese expertly integrates information and arguments from a wide range of sources to present a compelling and inspiring vision for how we can end animal farming—and the many harms it causes—once and for all. Highly recommended for anyone who cares about the future of this planet for humans and nonhumans alike."
—Jeff Sebo, clinical assistant professor of environmental studies and director of the animal studies MA program at New York University

"Our food system causes suffering for literally trillions of animals, making animal farming one of the great moral issues of our time. Indeed, the extent of the problem is so great that it often feels intractable. Jacy Reese lays out a big-picture comprehensive assessment of the situation. He shows that history and current developments are on the side of moral progress. At the same time, he lays out concrete priorities and actionable items that will help society to move forward. For anyone who feels frustrated with our global food system, this book is a must read."
—Joshua Tasoff, associate professor of economic sciences, Claremont Graduate University
Beacon Press, 9780807019450, 240pp.
Publication Date: November 6, 2018
About the Author
Jacy Reese is the research director and cofounder of Sentience Institute, a nonprofit think tank researching the most effective strategies for expanding humanity's moral circle. He previously served as board chair and a researcher at Animal Charity Evaluators. Reese's writing has appeared in Vox, Salon, and the Huffington Post, and he has presented his research to academic and nonprofit audiences in fifteen countries.
or
Not Currently Available for Direct Purchase