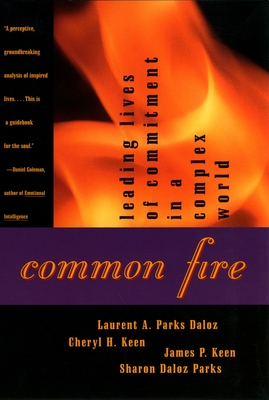 Common Fire (Paperback)
Leading Lives of Commitment in a Complex World
Beacon Press, 9780807020050, 288pp.
Publication Date: July 21, 1997
* Individual store prices may vary.
Description
A landmark study that reveals how we become committed to the common good and sustain such commitments in a changing world.
View the discussion guide for UU communities: HTML or PDF
"A perceptive, groundbreaking analysis of inspired lives. . . . This is a guidebook for the soul."
—Daniel Goleman, author of Emotional Intelligence

"A truly refreshing book! In a day when the political and spiritual air has grown stale with cynicism, discouragement, and indirection, this beautifully written, penetrating study could not be more welcome or valuable. No teacher, parent, or civic leader who cares about nurturing social commitment can fail to be informed and inspired by this remarkable and surprisingly practical book."
—Robert Kegan, author of In Over Our Heads

"Eloquent and profound, Common Fire addresses what Americans everywhere long for: a sense of the common good, an emphasis on community and compassion in everyday life, a values-based politics in the public sphere. A compelling, encouraging work."
—Jim Wallis, author of The Soul of Politics

"A profound exposition and penetrating commentary on some of life's most important issues."
—Clarence G. Newsome, dean, Howard Divinity School

"A compelling portrait of people who choose to make a difference and thus inspire us all."
—Rosabeth Moss Kanter, author of World Class: Thriving Locally in the Global Economy
About the Author
Laurent A. Parks Daloz is professor in adult education at Lesley College and associate director of the Whidbey Institute. Cheryl H. Keen and James P. Keen are professors at Antioch College. Sharon Daloz Parks is associate director of the Whidbey Institute and author of The Critical Years: Young Adults and the Search for Meaning, Faith, and Commitment.
Praise For Common Fire: Leading Lives of Commitment in a Complex World…
A perceptive, groundbreaking analysis of inspired lives. . . . This is a guidebook for the soul. —Daniel Goleman, author of Emotional Intelligence

"A truly refreshing book! In a day when the political and spiritual air has grown stale with cynicism, discouragement, and indirection, this beautifully written, penetrating study could not be more welcome or valuable. No teacher, parent, or civic leader who cares about nurturing social commitment can fail to be informed and inspired by this remarkable and surprisingly practical book." —Robert Kegan, author of In Over Our Heads

"Eloquent and profound, Common Fire addresses what Americans everywhere long for: a sense of the common good, an emphasis on community and compassion in everyday life, a values-based politics in the public sphere. A compelling, encouraging work." —Jim Wallis, author of The Soul of Politics

"A profound exposition and penetrating commentary on some of life's most important issues." —Clarence G. Newsome, dean, Howard Divinity School

"A compelling portrait of people who choose to make a difference and thus inspire us all." —Rosabeth Moss Kanter, author of World Class: Thriving Locally in the Global Economy
or
Not Currently Available for Direct Purchase