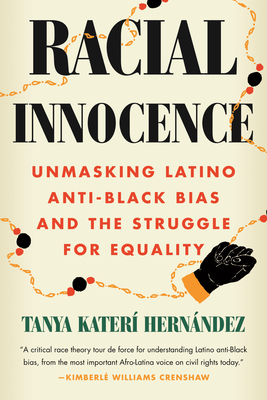 Racial Innocence
Unmasking Latino Anti-Black Bias and the Struggle for Equality
Hardcover

* Individual store prices may vary.
Description
"Profound and revelatory, Racial Innocence tackles head-on the insidious grip of white supremacy on our communities and how we all might free ourselves from its predation. Tanya Katerí Hernández is fearless and brilliant . . . What fire!"—Junot Díaz

The first comprehensive book about anti-Black bias in the Latino community that unpacks the misconception that Latinos are "exempt" from racism due to their ethnicity and multicultural background

Racial Innocence will challenge what you thought about racism and bias and demonstrate that it's possible for a historically marginalized group to experience discrimination and also be discriminatory. Racism is deeply complex, and law professor and comparative race relations expert Tanya Katerí Hernández exposes "the Latino racial innocence cloak" that often veils Latino complicity in racism. As Latinos are the second-largest ethnic group in the US, this revelation is critical to dismantling systemic racism. Basing her work on interviews, discrimination case files, and civil rights law, Hernández reveals Latino anti-Black bias in the workplace, the housing market, schools, places of recreation, the criminal justice system, and Latino families.

By focusing on racism perpetrated by communities outside those of White non-Latino people, Racial Innocence brings to light the many Afro-Latino and African American victims of anti-Blackness at the hands of other people of color. Through exploring the interwoven fabric of discrimination and examining the cause of these issues, we can begin to move toward a more egalitarian society.
Praise For Racial Innocence: Unmasking Latino Anti-Black Bias and the Struggle for Equality…
"Lucid case studies, diligent research, and the author's willingness to tackle controversial topics head-on distinguish this distressing examination of racism's insidious effects."
—Publishers Weekly

"An important book that reveals the many 'interwoven complexities' of American racism."
—Kirkus Reviews

"Hernández has not only written a much-needed book for judges and attorneys; she has also written a book for readers like me… Hernández has written a book where people like me feel like whole human beings rather than bifurcated versions of ourselves."
—Yalidy Matos, The American Prospect

"A critical race theory tour de force for understanding Latino anti-Black bias, from the most important Afro-Latina voice on civil rights today."
—Kimberlé Williams Crenshaw, Isidor and Seville Sulzbacher Professor of Law, Columbia Law School

"Profound and revelatory, Racial Innocence tackles head-on the insidious grip of white supremacy on our communities and how we all might free ourselves from its predation. Tanya Katerí Hernández is fearless and brilliant, and her work is exactly what we need in this challenging times. And that final chapter! What fire!"
—Junot Díaz, author of The Brief Wondrous Life of Oscar Wao

"Dr. Hernández is a brilliant scholar who provides critical analyses of the complexities of race and anti-Black bias as it operates throughout the Americas. Her insights are essential for understanding our contemporary sociopolitical landscape."
—Imani Perry, author of South to America: A Journey Below the Mason-Dixon to Understand the Soul of a Nation

"Tanya Hernández is one of the nation's foremost scholars regarding racial beliefs among Latin Americans, here and abroad. With nuance and care, her latest book drags into the light the explosive and critically important topic of Latino anti-Blackness."
—Ian F. Haney López, Chief Justice Earl Warren Professor of Public Law, University of California, Berkeley

"The racial fantasy is over! In this wonderful yet painful book, Professor Hernández skillfully exposes Latinos' anti-Blackness. With an impressive command of sources, data, and cases, she stitches together the thick story of racial exclusion, maltreatment, and discrimination against Blacks by people who claim to be racially mixed and 'color-blind.' Her book made a Black Puerto Rican man like me cry and get angry (too many memories) but also realize that airing our 'dirty laundry' is vital to fight this unacknowledged racism. Bravo, Professor Hernández for daring to address this taboo subject!"
—Eduardo Bonilla-Silva, author of Racism Without Racists: Color-Blind Racism and the Persistence of Racial Inequality in the United States
Beacon Press, 9780807020135, 216pp.
Publication Date: August 23, 2022
About the Author
Tanya Katerí Hernández is an internationally recognized comparative race law expert and a professor of law at Fordham University School of Law, where she teaches anti-discrimination law, comparative employment discrimination, and critical race theory. A Fulbright scholar, Princeton and Rutgers fellow, and former scholar in residence at the Schomburg Center for Research in Black Culture, she specializes in comparative race relations and anti-discrimination law. Hernández is the author of multiple books, including Multiracials and Civil Rights: Mixed-Race Stories of Discrimination.