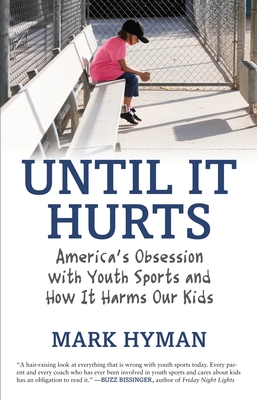 Until It Hurts
America's Obsession with Youth Sports and How It Harms Our Kids
Hardcover

* Individual store prices may vary.
Other Editions of This Title:
Paperback (3/1/2010)
MP3 CD (8/16/2016)
Description
Near the end of a long season, fourteen-year-old baseball pitcher Ben Hyman approached his father with disappointing, if not surprising, news: his pitching shoulder was tired. With each throw to home plate, he felt a twinge in his still maturing arm. Any doctor would have advised the young boy to take off the rest of the season. Author Mark Hyman sent his son out to pitch the next game. After all, it was play-off time.

Stories like these are not uncommon. Over the last seventy-five years, adults have staged a hostile takeover of kids' sports. In 2003 alone, more than 3.5 million children under age fifteen required medical treatment for sports injuries, nearly half of which were the result of simple overuse. The quest to turn children into tomorrow's superstar athletes has often led adults to push them beyond physical and emotional limits.

In Until It Hurts, journalist, coach, and sports dad Mark Hyman explores how youth sports reached this problematic state. His investigation takes him from the Little League World Series in Pennsylvania to a prestigious Chicago soccer club, from adolescent golf and tennis superstars in Atlanta to California volleyball players. He interviews dozens of children, parents, coaches, psychologists, surgeons, sports medicine specialists, and former professional athletes. He speaks at length with Whitney Phelps, Michael's older sister; retraces the story of A Very Young Gymnast, and its subject, Torrance York; and tells the saga of the Castle High School girls' basketball team of Evansville, Indiana, which in 2005 lost three-fifths of its lineup to ACL injuries. Along the way, Hyman hears numerous stories: about a mother who left her fifteen-year-old daughter at an interstate exit after a heated exchange over her performance during a soccer game, about a coach who ordered preteens to swim laps in three-hour shifts for twenty-four hours.

Hyman's exploration leads him to examine the history of youth sports in our country and how it's evolved, particularly with the increasing involvement of girls and much more proactive participation of parents. With its unique multiple perspective-of history, of reporting, and of personal experience-this book delves deep into the complicated issue of sports for children, and opens up a much-needed discussion about the perils of youth sports culture today. Hyman focuses not only on the unfortunate cases of overzealous parents and overly ambitious kids, but also on how positive change can be made, and concludes by shining a spotlight on some inspirational parents and model sports programs, giving hope that the current destructive cycle can be broken.
Praise For Until It Hurts: America's Obsession with Youth Sports and How It Harms Our Kids…
Mark Hyman illustrates-through personal anecdotes and meticulous reporting-the transformative power of sports in the lives of young people. More important, he shows how adults are ruining the experience by turning youth sports into a high-pressure, big-money enterprise. When did kids' sports become more work than play? Until It Hurts provides the answer-and offers the solutions we've been looking for.—Joan Ryan, author of Little Girls in Pretty Boxes

"A hair-raising look at everything that is wrong with youth sports today. Every parent and every coach who has ever been involved in youth sports and cares about kids has an obligation to read it."—Buzz Bissinger, author of Friday Night Lights

"It took a son's sore arm for Mark Hyman to recognize a hard truth: We're destroying youth sports, and maybe not even producing better athletes in the process. Until It Hurts is a sobering manifesto that should be required reading for every parent, coach, administrator, and referee. Though my daughter's U-7 soccer team doesn't know it, I've already implemented its smart, sensible, and long-overdue advice."—Stefan Fatsis, National Public Radio sports commentator and author of A Few Seconds of Panic and Word Freak

"As his teenaged son undergoes major surgery so he can pitch again, a sports dad examines the physical and emotional minefield of youth sports and comes up with ideas to make it family-friendlier. If you've got a young jock in the house, this book is more important than a private coach."—Robert Lipsyte, author of Raiders Night

"In this passionate and eye-opening book, Mark Hyman shows how helicopter parents, professionalized sports programs, and technological changes have produced a perfect storm-with our children's physical and mental well-being at the vortex."—Michael Kimmel, author of Manhood in America

"Hyman has authored a richly detailed, eye-opening look at an America hell-bent on turning our children into 'winners'-no matter the physical or emotional cost. Important, compelling, and painfully honest, Until It Hurts looks in all the right directions, including the mirror." —Armen Keteyian, Chief Investigative Correspondent, CBS News
Beacon Press, 9780807021187, 160pp.
Publication Date: April 1, 2009
About the Author
Mark Hyman is a journalist, frequently contributing to publications, such as The New York Times and Sports Illustrated, and he was a former writer for BusinessWeek and Sports Business Journal. In 1998, he assisted Baseball Hall of Fame broadcaster Jon Miller in the writing of his memoir, Confessions of a Baseball Purist. He has appeared on panels and led workshops for the Sports Lawyers Association, the American Press Institute and the Associated Press Sports Editors. In 2010 he was honored as one of 18 Sports Ethics Fellows by the Institute for International Sport at the University of Rhode Island and the Positive Coaching Alliance at Stanford University. He currently teaches in the sports management program at George Washington University.
or
Not Currently Available for Direct Purchase