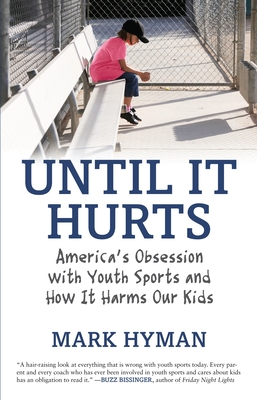 Until It Hurts: America's Obsession with Youth Sports and How It Harms Our Kids (Paperback)
America's Obsession with Youth Sports and How It Harms Our Kids
Beacon Press (MA), 9780807021194, 146pp.
Publication Date: March 1, 2010
* Individual store prices may vary.
or
Not Currently Available for Direct Purchase
Description
Every year, more than 3.5 million children under age fifteen require medical treatment for sports injuries, nearly half of which are the result of simple overuse. Journalist Mark Hyman investigates the evolution of youth sports from mere games to full-on quests to turn children into tomorrow's superstar athletes by pushing them beyond physical and emotional limits. Opening up a crucial discussion about the perils of youth sports culture today, Hyman offers the solutions answers we need.
About the Author
Mark Hyman is a journalist, frequently contributing to publications, such as The New York Times and Sports Illustrated, and he was a former writer for BusinessWeek and Sports Business Journal. In 1998, he assisted Baseball Hall of Fame broadcaster Jon Miller in the writing of his memoir, Confessions of a Baseball Purist. He has appeared on panels and led workshops for the Sports Lawyers Association, the American Press Institute and the Associated Press Sports Editors. In 2010 he was honored as one of 18 Sports Ethics Fellows by the Institute for International Sport at the University of Rhode Island and the Positive Coaching Alliance at Stanford University. He currently teaches in the sports management program at George Washington University.
Praise For Until It Hurts: America's Obsession with Youth Sports and How It Harms Our Kids…
Part confession, part cautionary tale, Mark Hyman's little book carries a big message about the 'hostile takeover' of youth sports by adults. . . .What lends Hyman's admonitions such chilling credibility is his willingness to lay bare his own foibles. . . . Such candor is compelling and engaging.—Brion O'Connor, Boston Globe

"A hair-raising look at everything that is wrong with youth sports today . . . Every parent and every coach who has ever been involved in youth sports and cares about kids has an obligation to read it."—Buzz Bissinger, author of Friday Night Lights

"As his teenaged son undergoes major surgery so he can pitch again, a sports dad examines the physical and emotional minefield of youth sports and comes up with ideas to make it family-friendlier. If you've got a young jock in the house, this book is more important than a private coach."—Robert Lipsyte, author of Raiders Night

"It took a son's sore arm for Mark Hyman to recognize a hard truth: we're destroying youth sports, and maybe not even producing better athletes in the process. Until It Hurts is a sobering manifesto that should be required reading for every parent, coach, administrator, and referee. Though my daughter's U-7 soccer team doesn't know it, I've already implemented its smart, sensible, and long-overdue advice."—Stefan Fatsis, National Public Radio sports commentator and author of A Few Seconds of Panic

"Mark Hyman . . . shows how adults are . . . turning youth sports into a high-pressure, big-money enterprise. When did kids' sports become more work than play? Until It Hurts provides the answer-and offers the solutions we've been looking for."—Joan Ryan, author of Little Girls in Pretty Boxes
Book Videos
Advertisement