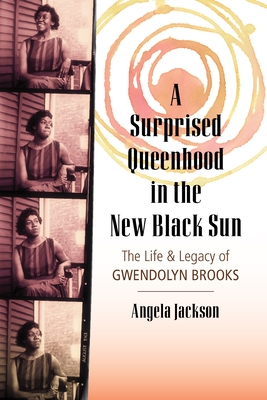 A Surprised Queenhood in the New Black Sun
The Life & Legacy of Gwendolyn Brooks
Hardcover

* Individual store prices may vary.
Other Editions of This Title:
Digital Audiobook (5/29/2017)
Paperback (5/29/2018)
MP3 CD (11/8/2017)
Description
A look back at the cultural and political force of Pulitzer Prize–winning poet Gwendolyn Brooks, in celebration of her hundredth birthday

Artist–Rebel–Pioneer

Pulitzer-Prize winning poet Gwendolyn Brooks is one of the great American literary icons of the twentieth century, a protégé of Langston Hughes and mentor to a generation of poets, including Sonia Sanchez, Nikki Giovanni, and Elizabeth Alexander.

Her poetry took inspiration from the complex portraits of black American life she observed growing up on Chicago's Southside—a world of kitchenette apartments and vibrant streets. From the desk in her bedroom, as a child she filled countless notebooks with poetry, encouraged by the likes of Hughes and affirmed by Richard Wright, who called her work "raw and real."

Over the next sixty years, Brooks's poetry served as witness to the stark realities of urban life: the evils of lynching, the murders of Emmett Till and Malcolm X, the revolutionary effects of the civil rights movement, and the burgeoning power of the Black Arts Movement. Critical acclaim and the distinction in 1950 as the first black person ever awarded a Pulitzer Prize helped solidify Brooks as a unique and powerful voice.

Now, in A Surprised Queenhood in the New Black Sun, fellow Chicagoan and award-winning writer Angela Jackson delves deep into the rich fabric of Brooks's work and world. Granted unprecedented access to Brooks's family, personal papers, and writing community, Jackson traces the literary arc of this artist's long career and gives context for the world in which Brooks wrote and published her work. It is a powerfully intimate look at a once-in-a-lifetime talent up close, using forty-three of Brooks's most soul-stirring poems as a guide.

From trying to fit in at school ("Forgive and Forget"), to loving her physical self ("To Those of My Sisters Who Kept Their Naturals"), to marriage and motherhood ("Maud Martha"), to young men on her block ("We Real Cool"), to breaking history ("Medgar Evers"), to newfound acceptance from her community and her elevation to a "surprising queenhood" ("The Wall"), Brooks lived life through her work.

Jackson deftly unpacks it all for both longtime admirers of Brooks and newcomers curious about her interior life. A Surprised Queenhood in the New Black Sun is a commemoration of a writer who negotiated black womanhood and incomparable brilliance with a changing, restless world—an artistic maverick way ahead of her time.
Praise For A Surprised Queenhood in the New Black Sun: The Life & Legacy of Gwendolyn Brooks…
"Jackson's sensitive portrait of this 'quiet genius' and her finely calibrated insights into her writing celebrate Brooks's warmth, her 'bitter bite, her slicing sarcasm,' and the revolutionary provocation and power of her courageous, caring, intricately faceted poems, poems to read and reread for their emotional, social, and moral repercussions—and for their expounding beauty."
—Donna Seaman, Booklist, Starred Review

"[Jackson] provides criticism which situates Brooks's poems in the social and political conditions of her time. What emerges is a portrait not just of a creative maverick, but also of an artist who constantly negotiated her womanhood and strove to tell the stories of ordinary black women."
—The New Republic

"This book will be of special interest to scholars and students but will also appeal to general readers who enjoy Brooks's poetry and want to know more about her."
—Library Journal

"Angela Jackson's new biography of Gwendolyn Brooks, A Surprised Queenhood in the New Black Sun, does more than recount the iconic poet's life and legacy: It's a lovingly written genealogy of Black activism and art."
—Bitch

"I love Gwen. She was a beacon to all of us. She was one of the most gracious people I know. She was, in fact, a poem. . . smooth. . . quiet. . . at a different level each time you saw the same words. What a pleasure it is for me to have been permitted to call her 'friend.' I know Angela Jackson, also, and am so pleased she is the one to weave this quilt."
—Nikki Giovanni

"Such generosity of vision and scholarship, A Surprised Queenhood in the New Black Sun superbly contextualizes Gwendolyn Brooks's life as a sustaining artist who possessed an immense communal spirit and served as a model of literary citizenship. Even more, Angela Jackson fiercely celebrates Brooks as mentor and unwavering light, one whose poetry was a lifeline and whose quiet deeds help to empower generations of American writers."
—Major Jackson, Richard A. Dennis University Distinguished Professor, University of Vermont; author of Roll Deep: Poems

"Angela Jackson frames the life and work of Gwendolyn Brooks with the attention and sensitivity perhaps only one poet can have for another. One of the greatest American poets of the twentieth century, Brooks had such a singular imagination that it would be folly to read her poems simply as products of her life experiences. And yet, we know Brooks drew inspiration for her work from people in the community around her. In A Surprised Queenhood in the New Black Sun, poet Angela Jackson has done something remarkable by illuminating the life and times that nourished Ms. Brooks's poems, and doing so in a way that proves the poems all the more vital and inventive. This is a remarkable achievement."
—Gregory Pardlo, Pulitzer Prize winner for Poetry

"Toni Morrison said we die, that may be the meaning of life, but we do language, that may be the measure of our lives. And how Miss Brooks did this thing called language. How she made us all look down the corridors of our birth. How she wore the rhythm of her name wide on green rivers of change. How she fashioned poems for us all from this bamboo wilderness called America. How she moved from city to city, restringing her words so we could live and breathe and smile and breathe and love and breathe her. This Gwensister called life."
—Sonia Sanchez
Beacon Press, 9780807025048, 208pp.
Publication Date: May 30, 2017
About the Author
Angela Jackson is an award-winning poet, playwright, and novelist. She is the author of numerous collections of poetry, including the National Book Award–nominated And All These Roads Be Luminous: Poems Selected and New. Her novel Where I Must Go won the American Book Award in 2009. Its sequel, Roads, Where There Are No Roads, was published in 2017. Additionally, Jackson was longlisted for the Pulitzer Prize and a longlist finalist for the PEN Open Book Award for her 2015 poetry collection, It Seems Like a Mighty Long Time. Other honors include a Pushcart Prize, Academy of American Poets Prize, TriQuarterly's Daniel Curley Award, and the Poetry Society of America's Shelley Memorial Award. Jackson lives in Chicago.
Coverage from NPR
or
Not Currently Available for Direct Purchase