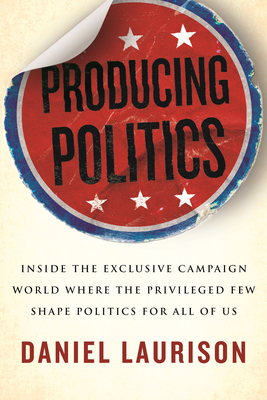 Producing Politics
Inside the Exclusive Campaign World Where the Privileged Few Shape Politics for All of Us
Hardcover

* Individual store prices may vary.
Description
The first book to uncover the hidden and powerful role campaign professionals play in shaping American democracy by delving into the exclusive world of politicos through off-the-record interviews

We may think we know our politicians, but we know very little about the people who create them. Producing Politics will change the way we think about our country's political candidates, the campaigns that bolster them, and the people who craft them.

Political campaigns are designed to influence voter behavior and determine elections. They are supposed to serve as a conduit between candidates and voters: politicos get to know communities, communicate their concerns to candidates, and encourage individuals to vote. However, sociologist Daniel Laurison reveals a much different reality: campaigns are riddled with outdated strategies, unquestioned conventional wisdom, and preconceived notions about voters that are more reflective of campaign professionals' implicit bias than the real lives and motivations of Americans.

Through over 70 off-the-record interviews with key campaign staff and consultants, Laurison uncovers how the industry creates a political environment that is confusing, polarizing, and alienating to voters. Campaigns are often an echo chamber of staffers with replicate backgrounds and ideologies; most political operatives are white men from middle- to upper-class backgrounds who are driven more by their desire to climb the political ladder than the desire to create an open conversation between voter and candidate.

Producing Politics highlights the impact of national campaign professionals in the US through a sociological lens. It explores the role political operatives play in shaping the way that voters understand political candidates, participate in elections, and perceive our democratic process—and is an essential guide to understanding the current American political system.
Praise For Producing Politics: Inside the Exclusive Campaign World Where the Privileged Few Shape Politics for All of Us…
"Laurison makes many important points about how politics reached its current state and where it might go from here . . . With the midterm elections looming, this detailed study of how campaigns work shines valuable light into dark corners."
—Kirkus Reviews

"[An] illuminating insider's view of American politics....Laurison's case for how current campaign practices undermine democracy is detailed and persuasive. Readers will learn much from this peek behind the political curtain."
—Publishers Weekly

"[F]ascinating insights and tidbits . . . the book is accessible and well written."
—Harry Charles, Library Journal

"Why, in such a dynamic, diverse country, do so many of our political campaigns feel so repetitively similar? Daniel Laurison's study of who goes to work for candidates, how they got there, and why they make the choices they do points us to an answer that will change the way you see and participate in elections."
—Sasha Issenberg, author of The Engagement: America's Quarter-Century Struggle over Same-Sex Marriage

"Aspiring politicos often ask me for advice about how to get a job on a campaign or in political consulting. From now on, I'll recommend they read Producing Politics. Daniel Laurison's book will help you understand the pathways and barriers to getting in the game and the good and not-so-good of the campaign culture that comes with it."
—Mark Blumenthal, former senior polling editor at The Huffington Post and cofounder of Pollster.com

"With compelling prose and vivid storytelling, Daniel Laurison takes a holistic look at how and why the elections industry sometimes undermines our democracy instead of supporting it. Producing Politics is a fresh, urgent take on one of the most pressing—but overlooked—challenges to democracy in America."
—Hahrie Han, author of Prisms of the People: Power & Organizing in Twenty-First-Century America

"In Producing Politics, Daniel Laurison pulls back the curtain on the understudied and often misunderstood world of political campaigns. By harnessing the insights and methods from the social sciences, he explains who campaign professionals are and why they hold the key to improving democracy in America. A compelling read."
—Dana R. Fisher, author of American Resistance and professor of sociology, University of Maryland

"Daniel Laurison has listened closely to the aspirations and strategic considerations that drive American campaign professionals. He reveals that their decisions create the campaigns voters experience, partially guided by evidence but also reflecting their unrepresentative backgrounds. Producing Politics offers an urgent plea that American campaigns can improve when the people who run them better reflect the voters they seek to mobilize and persuade."
—Matt Grossmann, author of How Social Science Got Better: Overcoming Bias with More Evidence, Diversity, and Self-Reflection

"American political campaigns have become less and less connected to the people they're supposed to represent. Accessible, compelling, and innovative, Producing Politics takes us behind the scenes and into the burgeoning field of political campaign professionals: how do they make decisions, and why do they set the priorities they do? Anybody wanting to understand the internal machinery of American politics needs to read this book."
—Andrew J. Perrin, SNF Agora Professor of Sociology, Johns Hopkins University

"Producing Politics is a must-read for all campaign professionals. Drawing on interviews from across the political spectrum, Laurison beautifully grapples with core questions about the state of US politics and democracy: Do campaigns matter? Who gets to run them? And what are the consequences of a growing professional political class that neither reflects the electorate nor attempts to build deeper relationships with regular folks? The candor of the interviews coupled with Laurison's insights result in a book that is hard to put down."
—Arisha Hatch, vice president of Color of Change
Beacon Press, 9780807025062, 224pp.
Publication Date: June 14, 2022
About the Author
Daniel Laurison is an associate professor of sociology at Swarthmore College, the associate editor of the British Journal of Sociology, and a Carnegie Fellow. He researches and writes on social class and political inequalities. His previous book was The Class Ceiling: Why It Pays to Be Privileged (coauthored with Sam Friedman).