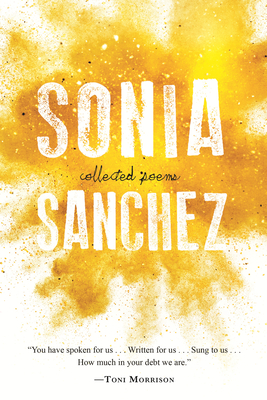 Collected Poems
Hardcover

* Individual store prices may vary.
Description
A representative collection of the life work of the much-honored poet and a founder of the Black Arts movement, spanning the 4 decades of her literary career.

Gathering highlights from all of Sonia Sanchez's poetry, this compilation is sure to inspire love and community engagement among her legions of fans. Beginning with her earliest work, including poems from her first volume, Homecoming (1969), through to 2019, the poet has collected her favorite work in all forms of verse, from Haiku to excerpts from book-length narratives. Her lifelong dedication to the causes of Black liberation, social equality, and women's rights is evident throughout, as is her special attention to youth in poems addressed to children and young adults.

As Maya Angelou so aptly put it: "Sonia Sanchez is a lion in literature's forest. When she writes she roars, and when she sleeps other creatures walk gingerly."
Praise For Collected Poems…
"Her masterful use of spacing, spelling and sound to create impact and celebrate the unique vernacular known as Black English is what gives her work that edge of poetic genius, but it's the intensely human quality, the intimacy and realness of the words, that drives them deep into the heart of many who receive them."
—RUSSH Magazine

"In impressive volume showcasing the broad scope of her literary work in general and word smithing talents in particular."
—Midwest Book Review

"Sonia Sanchez is a lion in literature's forest. When she writes she roars, and when she sleeps other creatures walk gingerly."
—Maya Angelou

"Her songs of destruction and loss scrape the heart; her praise songs thunder and revitalize. We need these songs for our journey together into the next century."
—Joy Harjo, US poet laureate

"The poetry of Sonia Sanchez is full of power and yet always clean and uncluttered. It makes you wish you had thought those thoughts, felt those emotions, and, above all, expressed them so effortlessly and so well."
—Chinua Achebe, Nobel Prize laureate

"Sonia Sanchez remains one of the most read, respected, and visible figures of the Black Arts Movement."
—Amiri Baraka

"You have spoken for us . . . Written for us . . . Sung to us . . . How much in your debt we are."
—Toni Morrison
Beacon Press, 9780807026526, 424pp.
Publication Date: April 13, 2021
About the Author
Sonia Sanchez-award-winning poet, activist, scholar, and formerly the Laura Carnell professor of English and women's studies at Temple University-is the author of sixteen books, including Like the Singing Coming off the Drums, Does Your House Have Lions?, Wounded in the House of a Friend, and Shake Loose My Skin.