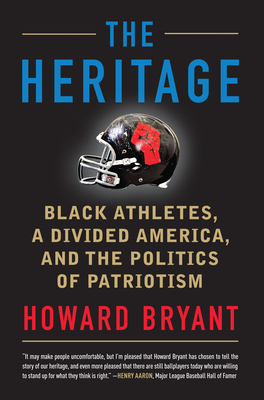 The Heritage
Black Athletes, a Divided America, and the Politics of Patriotism
Hardcover

* Individual store prices may vary.
Other Editions of This Title:
Digital Audiobook (5/7/2018)
Compact Disc (9/10/2018)
Paperback (1/29/2019)
MP3 CD (9/10/2018)
Description
Following in the footsteps of Robeson, Ali, Robinson and others, today's Black athletes re-engage with social issues and the meaning of American patriotism

Named a best book of 2018 by Library Journal

It used to be that politics and sports were as separate from one another as church and state. The ballfield was an escape from the world's worst problems, top athletes were treated like heroes, and cheering for the home team was as easy and innocent as hot dogs and beer. "No news on the sports page" was a governing principle in newsrooms.

That was then.

Today, sports arenas have been transformed into staging grounds for American patriotism and the hero worship of law enforcement. Teams wear camouflage jerseys to honor those who serve; police officers throw out first pitches; soldiers surprise their families with homecomings at halftime. Sports and politics are decidedly entwined.

But as journalist Howard Bryant reveals, this has always been more complicated for black athletes, who from the start, were committing a political act simply by being on the field. In fact, among all black employees in twentieth-century America, perhaps no other group had more outsized influence and power than ballplayers. The immense social responsibilities that came with the role is part of the black athletic heritage. It is a heritage built by the influence of the superstardom and radical politics of Paul Robeson, Jackie Robinson, Muhammad Ali, Tommie Smith, and John Carlos through the 1960s; undermined by apolitical, corporate-friendly "transcenders of race," O. J. Simpson, Michael Jordan, and Tiger Woods in the following decades; and reclaimed today by the likes of LeBron James, Colin Kaepernick, and Carmelo Anthony.

The Heritage is the story of the rise, fall, and fervent return of the athlete-activist. Through deep research and interviews with some of sports' best-known stars—including Kaepernick, David Ortiz, Charles Barkley, and Chris Webber—as well as members of law enforcement and the military, Bryant details the collision of post-9/11 sports in America and the politically engaged post-Ferguson black athlete.
Praise For The Heritage: Black Athletes, a Divided America, and the Politics of Patriotism…
"A fascinating, insightful look at race, politics, and sport."
—Booklist

"A well-researched meditation on the historical pressures on African-American athletes to embrace (or avoid) political engagement. . . An appealing blend of sports history and provocative discussion of race and success, respect, and representation in America."
—Kirkus Reviews

"In this timely book, Bryant, senior writer for ESPN Magazine, astutely explains how sports serves 'as a barometer of blacks' standing in the larger culture.' . . . . This indispensable book expertly chronicles a fractured nation dealing with black players who no longer want to (as Fox News host Laura Ingraham told LeBron James) 'shut up and dribble.'"
—Publishers Weekly

"A fascinating and complex look at the role of black athletes as political activists. Bryant's analysis of the intersection of professional sports and promoting patriotism (or nationalism, depending on one's point of view) is especially enlightening."
—Library Journal

"Bryant keeps his eye on the ball. On top of that, Bryant writes with the kind of vim, in turns darkly comic and serious, that pulls you from page to page. It's a bracing analysis that brings clarity during a hazy season."
—Pacific Standard

"Bryant's The Heritage is required reading for young people to realize what they're seeing isn't new, for current adults to understand the current climate in American sports and for older folks who lamented the lack of activist voices in the athletic ranks. The baton has been tossed."
—New York Amsterdam News

"This book will surprise, enlighten, and provide readers food for thought. Heritage lingers in the consciousness—readers will find themselves revisiting its pages long after completing it."
—Los Angeles Review of Books

"It may make people uncomfortable, but I'm pleased that Howard Bryant has chosen to tell the story of our heritage, and even more pleased that there are still ballplayers today who are willing to stand up for what they think is right."
—Henry Aaron, Major League Baseball Hall of Famer

"Serious times call for serious action. After leaving a communist totalitarian country when I was eighteen, I was free to speak out, and I did. The Heritage gives the clearest breakdown I've read on why we athletes not only have the right to advocate for what we believe in—but oftentimes a duty."
—Martina Navratilova, eighteen-time tennis Grand Slam winner

"If you believe that sports can be a lens for interpreting and understanding our world, then The Heritage is the Rosetta stone. Howard Bryant's latest explains so much about racism and the black athlete's place in US history that every chapter could be its own college course. But Bryant's book is less history than twenty-first-century prophetic fire: a polemic homing in on the ways that militarism, sports, and black athletic resistance have become volcanically explosive in the era of Trump. This is the book for explaining our times, whether you give a damn about sports or not."
—Dave Zirin, sports editor, The Nation, and author of Jim Brown: Last Man Standing
Beacon Press, 9780807026991, 288pp.
Publication Date: May 8, 2018
About the Author
Howard Bryant is a senior writer for ESPN.com and ESPN the Magazine and has served as the sports correspondent for NPR's Weekend Edition Saturday since 2006. He is the author of The Last Hero: A Life of Henry Aaron; Juicing the Game: Drugs, Power, and the Fight for the Soul of Major League Baseball; Shut Out: A Story of Race and Baseball in Boston; and the three-book Legends sports series for middle-grade readers. A two-time Casey Award winner (2003, 2011) for best baseball book of the year, Bryant was also a 2003 finalist for the Society for American Baseball Research Seymour Medal. In 2016, he was a finalist for the National Magazine Award and received the 2016 Salute to Excellence Award from the National Association of Black Journalists. He lives in Northampton, Massachusetts.
Coverage from NPR
or
Not Currently Available for Direct Purchase