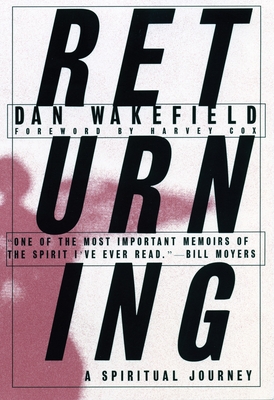 Returning: A Spiritual Journey (Paperback)
A Spiritual Journey
Beacon Press, 9780807027110, 272pp.
Publication Date: April 30, 1997
Description
Dan Wakefield was a successful writer of novels, nonfiction, and screenplays when he awoke to a private life that was disintegrating in alcohol, depression, and isolation. He fled Hollywood for Boston where he reclaimed a faith he had thought he was too sophisticated to embrace. In this moving memoir, Wakefield returns to his religious roots and his early life: his Indiana boyhood, his tumultuous student days, and his growth as a writer.
About the Author
Dan Wakefield is the author of numerous books, including "Creating from the Spirit, Expect a Miracle, The Story of Your Life," and "Going All the Way."
Praise For Returning: A Spiritual Journey…
One of the most important memoirs of the spirit that I've ever read. --Bill Moyers

"A grippingly honest account of how one man succeeded in filling the emptiness at the core of his soul." --Rabbi Harold S. Kushner, author of When Bad Things Happen to Good People

"A therapeutic act of reinterpreting the past in a spirit of forgiveness and gratitude."--David Toolan, The New York Times Book Review

"A moving, powerful account; I loved reading it and often recommend it to my students."--Elaine Pagels, professor of religion at Princeton University; author of The Gnostic Gospels and The Origin of Satan

"Returning is the book in which Wakefield speaks most directly about the physical and mental desperation that sent him back to his faith. And it turns out to be not only the best of his books about his spiritual journey but the best book he has written. A vivid memorable description . . . it traces the forces that formed him as a writer and intellectual."--Leonard Kriegel, The Nation
Advertisement