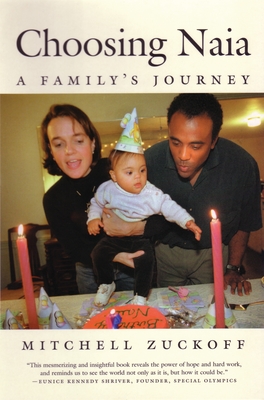 Choosing Naia (Paperback)
A Family's Journey
Beacon Press, 9780807028179, 312pp.
Publication Date: September 2, 2003
* Individual store prices may vary.
Description
A dramatic and carefully detailed account of one family's journey through the maze of genetic counseling, medical technology, and disability rights; destined to become required reading for anyone touched by any of these issues.
About the Author
Mitchell Zuckoff spent more than a decade as an award-winning writer for the Boston Globe and now teaches journalism at Boston University. He is the coauthor of Judgment Ridge: The True Story Behind the Dartmouth Murders. Zuckoff lives near Boston with his wife, Boston Globe photographer Suzanne Kreiter, and their two daughters.
Praise For Choosing Naia: A Family's Journey…
Choosing Naia . . . is a refreshing tale in an age in which medical technology encourages us to strive for perfection in ourselves and in our children. It is, of course, a loss to learn that your child won't be perfectly healthy. But, as Choosing Naia makes clear, few of us understand how much we may gain. --Maggie Jones, New York Times Book Review

"Choosing Naia skillfully recounts how the Fairchilds' initial shock and fear for the future of their unborn child gradually morphed into a determination to have the child and help her thrive after birth." --Hartford Courant

"The story of the Fairchilds' emotional and spiritual struggles is gripping-and relevant to everyone who's ever cared for a child. Choosing Naia is a powerful and important book." --Michael Bérubé, author of Life As We Know It: A Father, a Family, and an Exceptional Child

"Choosing Naia is an accurate and courageous book, a chronicle with a joyous outcome. For all readers it will enhance understanding of family building and of human values. I recommend it earnestly." --Dr. Allen Crocker, director, Down Syndrome Program, Children's Hospital, Boston