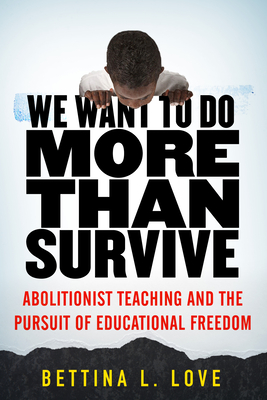 We Want to Do More Than Survive
Abolitionist Teaching and the Pursuit of Educational Freedom
Paperback

* Individual store prices may vary.
Other Editions of This Title:
Hardcover (2/19/2019)
Description
Winner of the 2020 Society of Professors of Education Outstanding Book Award

Drawing on personal stories, research, and historical events, an esteemed educator offers a vision of educational justice inspired by the rebellious spirit and methods of abolitionists.

Drawing on her life's work of teaching and researching in urban schools, Bettina Love persuasively argues that educators must teach students about racial violence, oppression, and how to make sustainable change in their communities through radical civic initiatives and movements. She argues that the US educational system is maintained by and profits from the suffering of children of color. Instead of trying to repair a flawed system, educational reformers offer survival tactics in the forms of test-taking skills, acronyms, grit labs, and character education, which Love calls the educational survival complex.

To dismantle the educational survival complex and to achieve educational freedom—not merely reform—teachers, parents, and community leaders must approach education with the imagination, determination, boldness, and urgency of an abolitionist. Following in the tradition of activists like Ella Baker, Bayard Rustin, and Fannie Lou Hamer, We Want to Do More Than Survive introduces an alternative to traditional modes of educational reform and expands our ideas of civic engagement and intersectional justice.
Praise For We Want to Do More Than Survive: Abolitionist Teaching and the Pursuit of Educational Freedom…
"A useful rejoinder, half a century on, to Paulo Freire's Pedagogy of the Oppressed; deserving of a broad audience among teachers and educational policymakers."
—Kirkus Reviews

"This text is helpful for gaining a better grasp of oppression and what teachers can do about it."
—Library Journal

"Love's new book is uncategorizable in the best way possible. It is memoir, history, indictment, textbook, guide, and manifesto . . . Educators who aspire to activism will find inspiration in the pages of this book."
—Rethinking Schools

"Offering readers a profoundly fresh perspective on teaching, Bettina Love breaks new ground. Using both the language of critical thinking and radical resistance, this book challenges and dares us all to teach for justice."
—bell hooks

"Through unflinching and daring inquiry, Dr. Bettina Love has stepped out on faith to articulate our pain, suffering, and eternal search for joy. Her words resurrect the abolitionist credo of 'education' over 'school.' Because they are two different things, the question remains: can school be the place where education happens or do we need to radically rethink what we're doing? Dr. Love's work suggests that if we do not choose the latter, we are complicit in our own demise."
—David Stovall, professor of African American studies and criminology, law, and justice, University of Illinois at Chicago, and coauthor of Twenty-First-Century Jim Crow Schools

"This book is exactly what we need: a powerful indictment of our education system as an industry that robs dark children of their potential. Dr. Love challenges us to become abolitionists by holding ourselves and our colleagues accountable for our complicity in perpetuating the 'educational survival complex.' As educators, we must recognize the impact of whiteness on our classrooms, demand the impossible, welcome the struggle, and refuse to oppress dark children by calling out racism, recognizing our students' cultures and histories, and showing them they matter to our communities and to our world. This isn't about reform; it's about freedom, and I'm moving from ally to coconspirator. Every educator needs to read this book, to freedom dream, and to challenge oppression with intersectional justice."
—Mandy Manning, 2018 National Teacher of the Year

"This much-needed book is at once personal, analytic, poetic, exacting, and soaring. Dr. Bettina Love brilliantly weaves, in artisanal and scholarly fashion, the threads and fabric of history, the present, and the possible future. She weaves in a way that we are invited to understand what moving past survival means, in personal, communal, and nation-building ways. This book is a call to building a different future: one made for freedom."
—Leigh Patel, author of Decolonizing Educational Research

"This book is a treasure! With rigorous intersectional theory, careful cultural criticism, and brave personal reflection, We Want To Do More Than Survive dares us to dream and struggle toward richer and thicker forms of educational freedom. With the mind of a scholar and the heart of a revolutionary, Bettina Love has penned a book that places her in the tradition of Freire, Giroux, hooks, and Ladson-Billlings. This beautiful text also affirms her position as one of the leading education scholars of her generation."
—Marc Lamont Hill, author of Nobody: Casualties of America's War on the Vulnerable, from Ferguson to Flint and Beyond

"We Want To Do More Than Survive is endarkened feminist wisdom in dark times. In the tradition of a skilled kente weaver, Dr. Love brings together abolitionist traditions of educational freedom work with contemporary struggles for Black humanity and creates a stunning tribute to the absolute necessity of joy and love in resistance struggles. What sets this book apart is Love's critical understanding that the splendor of kente is seen not in the weaver's individual efforts or strips of cloth, but instead when those pieces are woven together to illuminate our larger narrative as people of color in community. That narrative of Black freedom dreaming is this book you hold in your hands. And it is a must-read for those who love dark people, who love education, and who love the possibilities of educational freedom as intersectional justice right now."
—Cynthia B. Dillard (Nana Mansa II of Mpeasem, Ghana), Mary Frances Early Endowed Professor of Teacher Education, University of Georgia, and author of On Spiritual Strivings: Transforming an African American Woman's Academic Life

"Bettina Love has managed to write a book that is both a love song to our children and a potent weapon. Part memoir, part manual, part manifesto, We Want to Do More Than Survive explains that abolitionist teaching is neither a new set of standards nor a social justice curriculum, but a revolutionary commitment to transforming ourselves, our country, and the world. Written in breathtaking prose and bold cadences, it reminds us that 'mattering' is a verb, and making sure all of our kids truly matter is unfinished business for which we are all responsible. Educator or not, read this book: it is our North Star."
—Robin D. G. Kelley, author of Freedom Dreams: The Black Radical Imagination
Beacon Press, 9780807028346, 200pp.
Publication Date: February 4, 2020
About the Author
Bettina L. Love is an award-winning author and an associate professor of educational theory and practice at the University of Georgia. Her research focuses on how teachers and schools working with parents and communities can build communal, civically engaged, antiracist, antihomophobic, and antisexist educational, equitable classrooms. A sought-after public speaker on a range of topics, including hip-hop education, Black girlhood, queer youth, hip-hop feminism, art-based education to foster youth civic engagement, and issues of diversity, Love has also provided commentary for news outlets including NPR, the Guardian, and the Atlanta Journal-Constitution.